From Yokabied: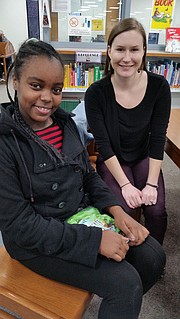 Ms. Jordan and I have worked together for three and a half years. We read fantasy and adventure books, graphic novels, nonfiction and history books. The things I have learned with Ms. Jordan are new words, reading out loud, parts of speech, and she helps me with my homework. We have done fun projects like painting a model of the solar system and making a poster about Sea Turtle facts. We also play games, and go to fun Wright to Read events. Ms. Jordan should become mentor of the month, because I appreciate how nice and smart she is. I also appreciate the times she helps me with my homework and my reading and she is really encouraging.
From Jordan:
Yokabied and I have been working together for three and a half years, and our meetings are always one of the most positive and rewarding parts of my week. The best part of this process for me has been watching Yokabied develop a genuine love of reading. We work our way through fantasy, mystery and adventure novels in our sessions, and Yokabied is almost always reading additional books at home. She has an amazing recall of the books we read, and is always full of questions and predictions about where the story will go. We also talk about her schoolwork and look over particularly challenging assignments. I know we both feel supported by everyone at Wright to Read, who provide the books and supplies we need, listening ears for any questions we may have, or just an excited audience for us to show off our latest project.
One of my favorite aspects of the Wright to Read program is the emphasis on building mentoring relationships alongside the academic work. Yokabied and I love to take advantage of Wright to Read events like student read-alouds, scavenger hunts, picnics and craft projects. These events have helped me get to know Yokabied's family, who are extremely supportive of her learning and our work together, and for Yokabied and I to talk about life beyond the books we read. We have discussed everything from her first round of standardized tests, to her transition to middle school last fall, to her dreams for the future. Yokabied is an inquisitive, excited student with big goals, and she puts in the work to make them happen. She and the Wright to Read program make my work as a tutor and mentor easy and enjoyable.
Wright to Read provides volunteer-based one-on-one sustained literacy tutoring & mentoring relationships to City of Alexandria elementary school children in need, and collaborates with families, schools and community partners to create a comprehensive support network that guides each child to success. Wright to Read is a member of the Alexandria Mentoring Partnership (AMP). AMP was created in 2006 to ensure that quality mentors and mentor programs are available for Alexandria's youth and young adults in need. To learn more about Wright to Read, visit www.wrighttoread.org or to learn more about AMP, visit: http://www.alexandriava.gov/Mentoring.