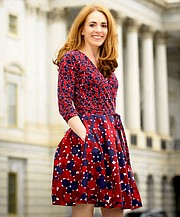 Like many journalists, Potomac resident Aimee Agresti always wanted to write novels.
Her recently published novel, "Campaign Widows," was one she said she had in her head for a long time.
"I had the kernel of the idea and I had a title," she said in an interview at the Potomac Library last week.
But she was busy.
Agresti grew up in Olney.
"I was a [Sherwood High School] Warrior," she said.
She attended Northwestern University, majored in journalism, and moved to New York City to write for entertainment magazines.
"I've always been interested in entertainment," she said.
And she got right to it. Among the publications she wrote for are Us Weekly, People, Premiere, DC magazine, Capitol File, the Washington Post, Washingtonian and the Washington City Paper.
She said she loved the work, getting to do lots of celebrity interviews, attending premiers, and learning the inside scoop of the entertainment industry.
Her favorite celebrity?
"My favorite is George Clooney," she said. "He's so charming. He's everybody's favorite."
Somehow, Agresti found time to write a trilogy of young adult novels, "The Gilded Wings Trilogy."
"I thought, why don't I try to write a book I would have loved as a teen," she said.
Those books are available in this library, she said, getting up to look for a copy and, happily returning without one – it was checked out.
For "Campaign Widows," her first novel for adults, Agresti married her experience as an entertainment journalist with Washington politics.
"Some people say its like Sex in the City and The West Wing," Agresti said.
"It's all fiction," she said. "A book about unlikely friendships, people at different places in their lives."
The characters are each left alone as their significant others are away working the long hours required of politicians seeking election wins.
Agresti said she knows a bit about that as her now husband did a lot of politicking before they married.
Mostly, she said, the book is a fun read.
"It's lighthearted, upbeat, a lot of fun, escapism …," she said.
Early reviews back that up.
Cosmopolitan listed "Campaign Widows" among its "Must have beach reads" and Us Magazine includes it in its "Best of Spring Reads."
Agresti will be signing copies of "Campaign Widows" at 2 p.m. Saturday, May 26 at Barnes & Noble, 12089 Rockville Pike.