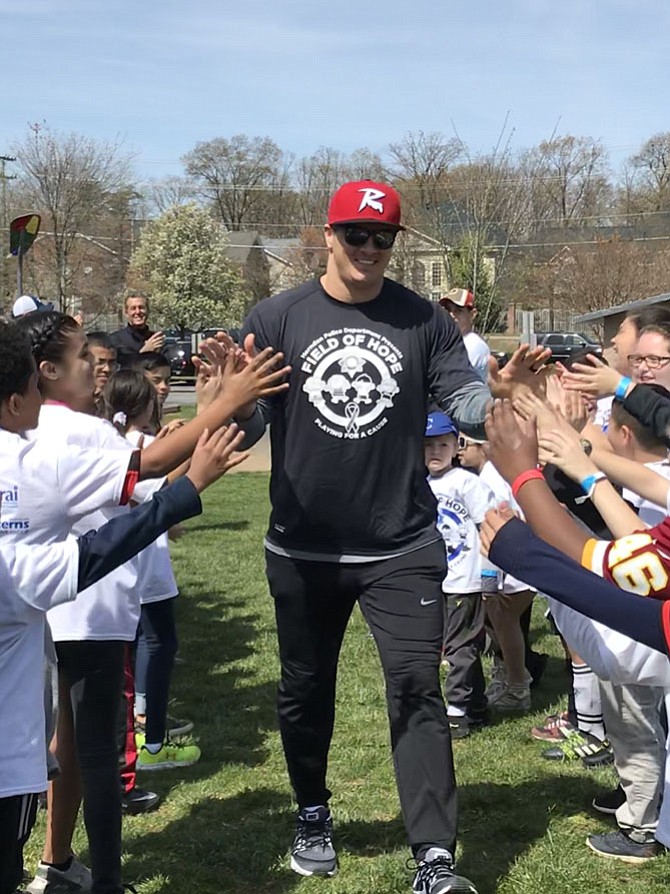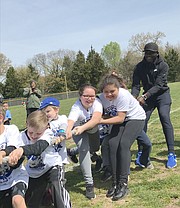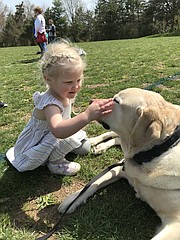 There are children in Fairfax County who suffer from a hidden epidemic, one of child abuse and neglect. The American Society for the Positive Care of Children cites the United States has one of the worst records among industrialized nations for child abuse, losing on average almost five children every day. Nationwide, nearly 60,000 children are sexually abused each year, that is 1 in 16, with 90 percent of juvenile victims knowing their perpetrators.
Earlier this year, Detective Jonathan Sorg of the Herndon Police Department heard the call to make a difference. Sorg took local action to heart and brought awareness to the children in Fairfax County impacted by child abuse and sexual abuse.
With the Herndon Police Department behind him and help from various other groups, Sorg organized the inaugural Herndon Police Department Field of Hope, Playing for a Cause held on April 21, 2018, at Haley Smith Park in Herndon. "This is something I came up with because I wanted to bring awareness to child abuse and help children who might have been involved," Sorg said during an interview. "To me, a lot of children feel ashamed, think it's their fault and afraid of the impact it might have on their families. I think events like these are important. People care, and we can hear their voices."
SAFESPOT is a facility in that it is a centralized family-friendly location, one which provides direct services to child victims of sexual abuse and severe physical abuse in Fairfax County through an inter-agency multi-disciplinary team. The center's top priority is the child.
Michele Thames is Executive Director of SafeSpot in Fairfax. "The hope is all children feel safe in our community, and if they don't, they find a trusted adult," Thames said. "In 2017, SafeSpot served 425 Fairfax County children ages 3-18." That equates to at least one child a day walking through the doors of SafeSpot.
Detective Sorg's ticketed event, Field of Hope was open to children up to 14 years of age. It sold out quickly as pro-athletes Kofi Opare of D.C. United and Ryan Kerrigan, #91 Linebacker of the Washington Redskins had been scheduled to play games with the children and show them some moves. Tug-of-war elicited massive displays of kid super-strength and soccer was a big hit with many of the children. A raffle brought in extra funds to support SafeSpot.
The pro-athletes were thrilled to be part of the day.
Kerrigan said, "It's always an honor to serve the community in any capacity, especially a cause as related to an issue as important as helping children in need.
Opare added: "As an athlete, part of our job is to entertain, to put a smile on people's faces, whether a child or an adult."
Up until 2014, child abuse victims were interviewed in various locations in Fairfax County. The child went from agency to agency to tell their story to professionals and investigators, a wearisome and emotional toll on the child. Although the Police Annex was eventually stood up as a given location, it was sterile and unwelcoming, with families waiting in the public lobby. Now SafeSpot offers a child-friendly, culturally sensitive environment.

SafeSpot's model program brings the system to the child, with a one-time-only forensic interview to find out if something happened, get the details and determine if criminal charges should be pursued. Multiple agency professionals work together as a team to ensure the safety and well being of child victims of abuse. The team works together to intervene, investigate, prosecute and treat sexual abuse and physical abuse.
Depending on findings, the case may be presented to the District Attorney, a suspect charged or case refused. The child and family can receive mental health services, critical resources, and support as the case moves through the justice system. If Child Protective Services are needed, the child may be removed from the home or case opened for services or closed.
FIELD OF HOPE, Playing for a Cause raised approximately $6,500 to benefit SafeSpot. The donation will help partially fund SafeSpot's expenses for items such as a child's complete therapy at an estimated quoted total of $1,500 per child and forensic interview sessions for each child victim of abuse cited at $250.
SafeSpot's next two events are an Open House on Friday, June 8, 9-11 a.m. and a Happy Hour for Hope at Courthaus Social in Arlington on Saturday, June 9, 4-7 p.m. For locations to these events and to donate to SafeSpot, visit www.safespotfairfax.org.