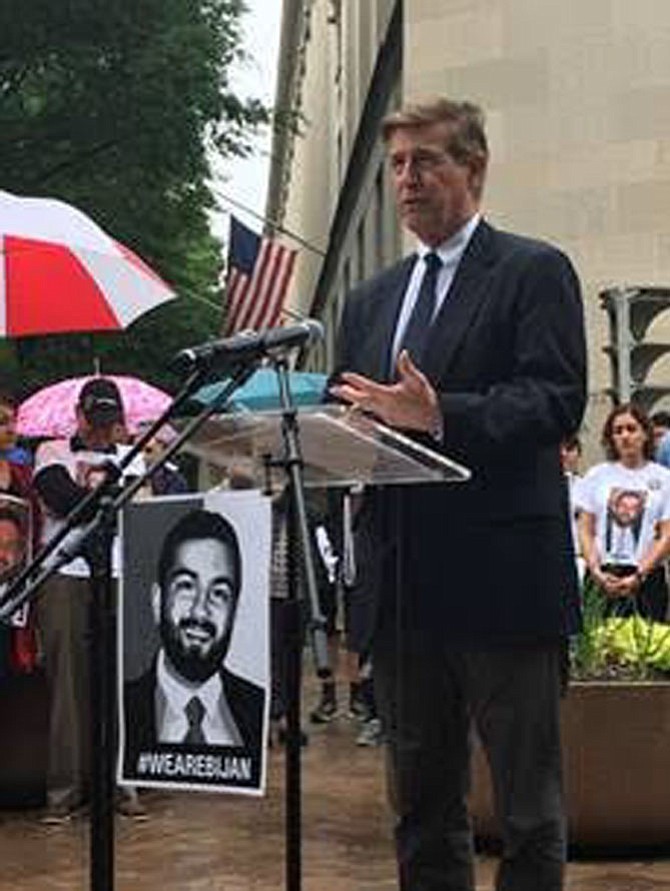 Local elected officials joined the family and friends of Bijan Ghaisar at a rally on Saturday, May 19, at the U.S. Department of Justice, demanding information about the federal investigation into the November killing of Ghaisar by two U.S. Park Police officers.
State Sen. Scott Surovell, who spoke at the rally, said, "It is absolutely crazy that it has now been six months of silence from the authorities … when you watch the video, Bijan is not speeding or driving aggressively. Nothing in that video said that anybody should be shot four times in the head. This is happening way too much in this country and in Northern Virginia. It is so important that we get transparency on this."
Springfield District Supervisor Pat Herrity, who also attended the rally, said, "This was such a horrific incident and we still don't know why shots were fired by the U.S. Park Police officers."
Addressing the crowd, U.S. Rep. Don Beyer (D-8) said, "I have had a number of conversations with the FBI investigator in charge, and he has only promised that the investigation is almost complete. But it was almost complete in December, and in January – and now it is May."
Ghaisar, a 25-year-old accountant and graduate of Virginia Commonwealth University, was shot by two U.S. Park Police on Nov. 17 at the intersection of Fort Hunt Road and Alexandria Avenue. He was unarmed while he sat in his Grand Cherokee Jeep. The reasons why he was shot still continue to be a mystery. No information has been provided by the Park Police or the FBI who is investigating the case.
TIMELINE
Nov. 17: Fender bender occurs in which the victim's vehicle was rear ended while on the southbound lane of the George Washington parkway just north of Alexandria. The victim drove away while failing to speak to the driver of the car that hit him. He also did not speak to the Park Police and drove away from them as they approached.
Ghaisar continued south through Alexandria. The Park Police pursued him and he drove south until he was stopped by the Park Police the second time. When they approached him again Ghaisar drove away a third time. He did this twice more. Each time the Park Police approached him with guns drawn.
A Fairfax County Police officer joined in the pursuit, and activated his in-car video camera. The footage demonstrates that Ghaisar drove off each time he was approached by the Park Police.
The final time the Park Police pursued him, he drove off the parkway and eventually ended up at the corner of Fort Hunt Road and Alexandria Avenue.
According to press reports Ghaisar was shot four times in the head as he sat in his Jeep Grand Cherokee.
Nov. 27: Ghaisar died 10 days after he was shot.