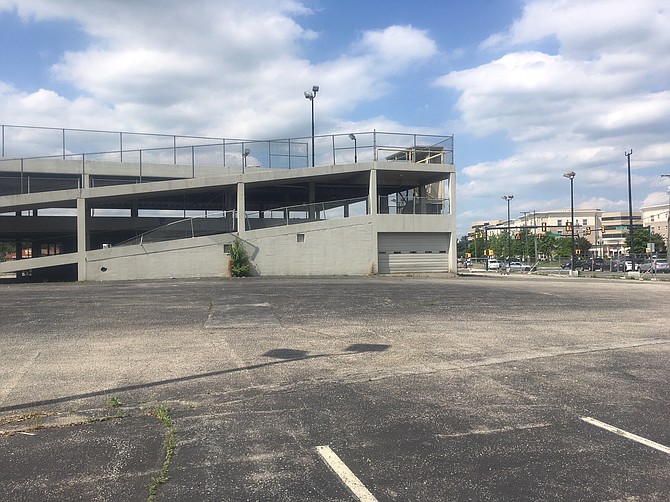 In a spot that was once a giant slide and then a Safford auto dealership in central Springfield, there will soon be a Lidl grocery store that offers a variety of baked goods and groceries in a further step to revitalize the area.
The location is the corner of Commerce Street and Brandon Avenue, and Springfield planners are looking towards this move to complement the area as a business district. "LIDL is about the future of the Springfield Central Business District just like ALDI, the Town Center, small businesses, and the planned Hampton Hotel," said Bruce Waggoner, president of the Springfield Civic Association, in an email.
The current concrete parking garages where the car dealer once stood are an eyesore to the area, a magnet to graffiti artists and a waste of a good spot that could house retail or a civic attraction. The area took a hit over the past few years when Fischer's Hardware and Kate's Irish Bar and Restaurant closed, making the plaza less attractive to shoppers. In recent years, a LA Mart and Aldi Grocers opened nearby, but three isn't a crowd over in this part of Springfield, according to Waggoner. "LIDL's, like ALDI's, lower grocery prices across the board for all consumers. Low prices, high quality, and a pleasing environment: we want all we can get of that mix in Springfield," he said. He mentioned the number of jobs it would bring as well.
The Greater Springfield Chamber of Commerce looks at it as a win-win too, potentially improving the corner of Brandon Ave. and Commerce Street. "While we'd prefer to see a higher density, mixed-use for the parcel, we're pleased that a new, community-serving business has taken interest in the property, " said Nancy-jo Manney CEO at the chamber.
The spot is part of Lee District, and Supervisor Jeff McKay (D-Lee) is looking at the area as a whole. "This is another example of the great revitalization work happening in Springfield. We're seeing a major national retailer, Lidl, taking over the site of a blighted, abandoned former car dealership. It's exciting," he said, in an email.
Around the corner at Veronica's Bakery and Café, Ana Salinas thinks a medical facility might be a better fit for the spot. "We're saturated with a lot of food places," she said.
The Lidl corporation was pretty tight-lipped about the future of this property. "Thank you for reaching out to Lidl US. We have a number of sites in development in Virginia, and do not comment on each individual one," said Chandler Ebeier, Public Relations at Lidl US, LLC said in response to a question about this location.
Lidl headquarters are located in Arlington, Va.
Other Lidl stores in the Northern Virginia area include locations in Fredericksburg, Culpeper, Woodbridge, Manassas and Ashburn.