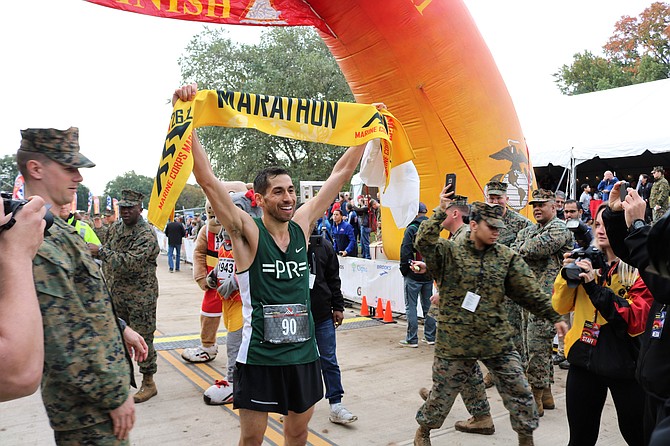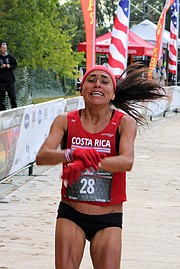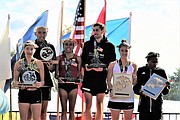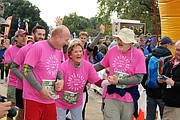 "It wasn't totally my day. But it was a huge accomplishment for me to get back out there." —Brooke Sydnor Curran on completing the 2018 Marine Corps Marathon after suffering a brain aneurysm six months ago.
With ages spanning from 11 to 77, more than 900 Alexandria runners joined tens of thousands from around the world to participate in the 43rd Marine Corps Marathon and 10K race Oct. 28 in Arlington.
"It was a good day for runners," said Brooke Sydnor Curran, running in her fourth Marine Corps Marathon and first since suffering a brain aneurysm six months ago. "It may have been a bit cool for spectators but it was a great day out on the course."
Curran said her time of 4 hours, 24 minutes and 59 seconds was her slowest over the 26.2-mile MCM course.
"It wasn't totally my day," Curran said. "But it was a huge accomplishment for me to get back out there."
The race known as "The People's Marathon" was won by Jeffrey Stein, an attorney in the Public Defender's Office in the District of Columbia. Stein rebounded from last year's eighth place finish to win the men's division with a time of 2:22:49.
"I couldn't ask for anything better," said Stein, 32, after notching his first marathon victory. "It was totally exhilarating."
Stein was followed by Patrick Hearn, who ran a 2:23:27 race, and Will Christian, who placed third in 2:24:24.
In the women's division, Costa Rica's Jenny Mendez Suanca, 38, repeated her 2015 MCM victory to place first with a time of 2:40:19, setting a personal best by nearly five minutes. Army Lieutenant Lindsay Gabow of San Antonio was second in 2:46:35 with Marine Corps 2nd LT Lindsay Carrick of Fredericksburg finishing third in 2:48:45.
The top handcrank finisher was 39-year-old medically-retired Army infantryman Omar Duran, formerly of the 82nd Airborne, who completed the course in 1:21:28.
Alexandria's top male finisher was Kenny Rayner, 28, who placed 27th in the men's division with a time of 2:48:53. Other local runners in the top 100 included Nolan Compton, who finished in 42nd place with a time of 2:46:56, Patrick Murray (63rd in 2:52:08) and Patrick Wheeler (70th in 2:53:53).
Rachel Viger, 27, was Alexandria's top female finisher with a time of 3:03:59, placing 20th overall among women. Melissa Saunders and Kelly Buroker also broke into the women's top 100 with times of 3:13:34 and 3:19:33 respectively.
Alexandria's youngest marathon runner was 16-year-old Welles McHenry, who finished the course in 4:13:33 while 11-year-old Matthew Bryant completed the MCM 10K in 1:31:38. The city's oldest competitor was Jacqueline Bardol, 77, who completed the marathon course in 6:32:08.
Other Alexandria marathoners included Gazette Packet contributing writer Hope Nelson (5:40:57), Sonoma Cellar owner Rick Myllenbeck (6:43:21), Del Ray Artisans treasurer Stephen Lally (4:22:33) and Audrey Davis, director of the Black History Museum (6:15:47).
Jim Spengler, director of the Alexandria Recreation, Parks and Cultural Activities Department, completed the MCM 10K in 1:18:50.
Curran was greeted at the finish line by her husband Chris and daughters Clare and Kate. The neurosurgeon who performed Curran's brain surgery, Dr. Nilesh Vyas of Inova Fairfax Hospital, was also there to congratulate her after the race.
"He saved my life," Curran said of Vyas. "It meant a lot to me that he came out to watch me run. It was a special day all around."
For complete MCM race results, visit www.marinemarathon.com.