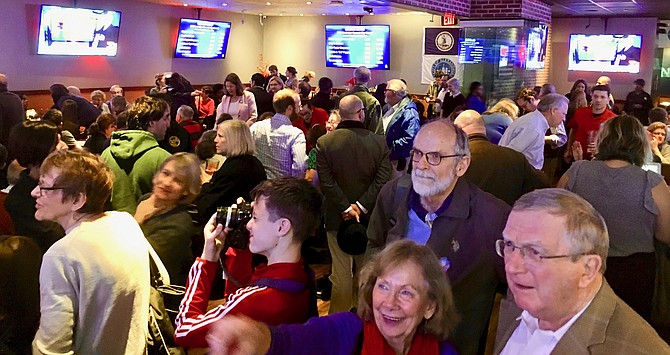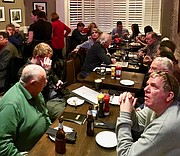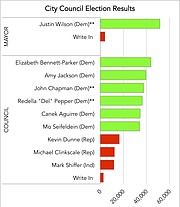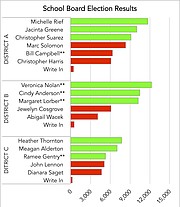 Tuesday's general election yielded few surprises for mayor and City Council, with Democratic candidates sweeping all seven seats. The School Board shed one incumbent.
Council candidates this year gathered more votes than they usually do, according to unofficial results available as the Gazette Packet goes to press. That's true even compared to 2012, the last time local races coincided with federal races, when the presidency was also on the ballot.
In 2012, council victors won with roughly between 30,000 and 37,000 votes each, Allison Silberberg becoming vice mayor with the latter. This year, council candidate won with roughly between 34,000 and 44,000 votes each, newcomer Elizabeth Bennett-Parker becoming vice mayor with the latter.
Mayor-elect Justin Wilson received nearly 52,000 votes, compared to Bill Euille's 39,000 in 2012. Wilson ran opposed, whereas Euille didn't. In total, about 10,000 more people voted in the 2012 mayoral race.
As usual, the fewest voters participated in the School Board race. Veronica Nolan (District B) received the most votes, just over 12,000. Of the nine winners across all districts, incumbent Ramee Gentry (District C) received the least votes, just over 5,000.
Overall, council will go into the next term with three of seven incumbents, the School Board with four of nine.
At least for party faithfuls, Tuesday's election largely represented a referendum on Donald Trump's presidency. Enthusiasm about local races was mixed.
"This is the most important election in my lifetime," said Michael Cox, a Republican-turned-Democrat. He "grudgingly" switched sides in 2008, mainly because he couldn't reconcile what he saw as a "fiscal disconnect" at the national level between Republican-led tax cuts concurrent with multiple wars. Tuesday for him was mainly about federal races. Local races were largely incidental.
Former Mayor Bill Euille, a Democrat, also expressed most interest in federal elections. The most decisive issues for him were "truth and honesty, and removing the constant fear factor." As for City Council, he thinks Alexandria is mostly on the "right track."
Democrat Sarah Orndorff said she was most concerned about immigration, voting rights and women's rights, particularly to obtain an abortion. While she said local issues are "as important to me as the bigger federal issues," she said she didn't know much about local candidates.
Democrat Nate Ho said the election for him was mostly about national issues, that he hasn't paid much attention to local issues, and voted the ticket.
Voters wanted to "send a message, federally," said Wilson, agreeing that many people were primarily interested in the federal races. At the local level, "we're going to have a great team," which is "the most diverse council this city has ever seen," in terms of race and gender, he said. "We've got some big work to do," for example, securing the city's economic future. "We're going to need some new thinking."
Republican James Cottrell said the most important issues for him vis-à-vis the federal races were the economy and foreign policy. Inasmuch as the election was a referendum on Trump, he thinks Trump is doing a "sensational" job.
But "I pay attention to every level," he said. At the local level, he's most concerned about limiting development and controlling spending. He thinks the "short-term gain" for the city of more development will lead to "long-term pain" in terms of increasing costs for services to more and more residents.
He thinks some voters wrongly believe that supporting partisan candidates at the local level will affect the federal level. He usually votes Republican or Libertarian, but in the past voted for Silberberg and independents.
"I'm a deplorable" and "very much in the Trump camp," said Laurie Kirby. At the national level, she expressed most interest in the economy and defense. At the local level, she's concerned about "spending generally," and wants to "temper" expansion in order to relieve strain on infrastructure. She thinks Republicans would be more responsible with taxpayers' money, saying that, for retirees, it's "tough to keep up with [local] taxes as they are."
Republican Michael Lane, a former Arlington County Board member, said he's concerned that the Alexandria City Council's "knee-jerk reaction to any issue is a government-sponsored spending program."
"I'm looking for accountability in schools and concrete programs to improve Alexandria's public schools academic reputation. I wasn't inspired by any of the [School Board] candidates," he said.
Republican Terri Hauser thinks an over-focus on national issues has "diluted" focus on local issues and candidates.
"A city that prides itself on diversity ought to have diversity of opinion reflected on its City Council," she said. She thinks local elections should occur in May, as in the past, and not alongside state and federal races in November.
Regarding partisan diversity on the City Council, "voters settled the issue," said Wilson.