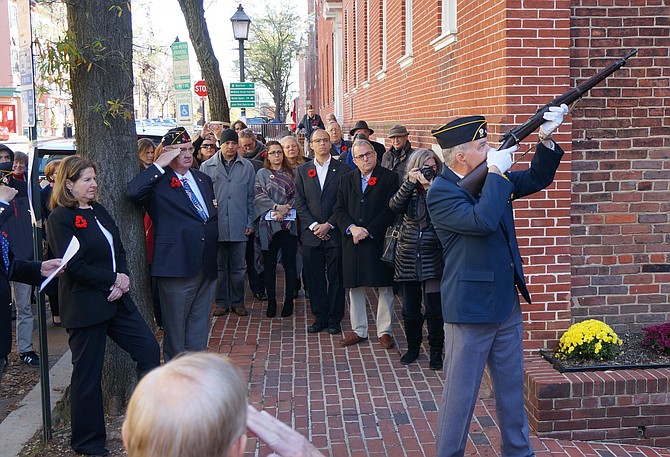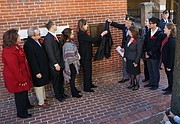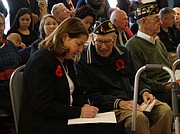 It was the war to end all wars. After four years of fighting, hostilities formally ended between the Allies and Germany at the "11th hour of the 11th day of the 11th month" in 1918. On Nov. 11, the City of Alexandria commemorated the 100th anniversary of the armistice to end World War I with a ceremony at American Legion Post 24 in Old Town.
The ceremony marking the centennial of Armistice Day, now celebrated as Veterans Day, was held in the ballroom of Post 24 and culminated in the unveiling of a plaque outside the building that honors all Alexandrians who lost their lives in WWI.
Dr. Lee Anthony, a WWI historian, was the featured speaker at the event that was opened by the T.C. Williams High School JROTC Honor Guard posting of the colors.
As part of the ceremony, more than 8,000 knit and crocheted poppies were displayed and handed to guests in memory of Alexandria's veterans. The poppies were created by local residents over the last 18 months specifically for the ceremony. Poppies were officially adopted as a symbol of remembrance for those who died in service to their country shortly after WWI.
More than 4,000 residents served directly in WWI in uniform, while hundreds more worked in war industries including aircraft construction, shipbuilding and other war-related production.
Although the signing of the Treaty of Versailles on June 28, 1919, officially ended World War I, hostilities between the major powers ended on Nov. 11, 1918, when an armistice went into effect. Armistice Day was celebrated in the United States every year thereafter until President Dwight D. Eisenhower changed it to Veterans Day in 1954 to encompass the veterans of all American wars.
Gadsby's Tavern was originally purchased by the American Legion Post 24 in 1929 and opened as a memorial to local WWI veterans. The building was gifted to the city in 1972 and now operates as a museum and restaurant. The plaque honoring WWI veterans is located on the Cameron Street side of the building outside of the entrance to American Legion Post 24.