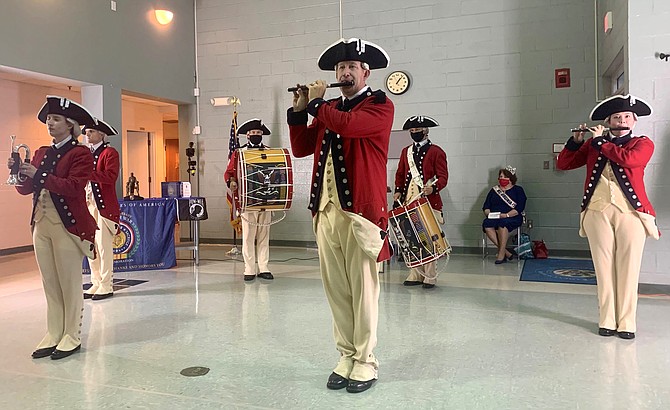 It was the war to end all wars. After four years of fighting, hostilities formally ended between the Allies and Germany at the "11th hour of the 11th day of the 11th month" in 1918. On Nov. 11, the Friends of Rocky Versace commemorated the 102nd anniversary of the armistice to end World War I with a Veterans Day ceremony at Blessed Sacrament School Hall, a change from its usual location at Mount Vernon Recreation Center due to COVID-19 restrictions.
"Because of the ongoing virus threat and the unavailability of the Mount Vernon Recreation Center, the ceremony was held at an alternate venue with a limited audience," said Kevin Rue, a retired Army officer and 21-year member of the Friends of Rocky Versace who served as Master of Ceremonies.
The ceremony included a reading of the 68 names of Alexandrians who were killed or reported missing in action during the Vietnam War and recognized four Gold Star Family members in attendance.
"It was inspiring to see active duty servicemen and women in full uniform with their children honoring our nation's veterans and teaching the next generation about service and sacrifice," said 17-year-old Chiara Luepke, granddaughter of Lt. Col. Anthony C. Shine, an Air Force fighter pilot listed as Missing in Action on Dec. 2, 1972, on his second tour of duty in Vietnam. "I was proud to honor the stories of men like Rocky Versace and my grandfather, who stood for something greater than themselves, and hope that today's active duty personnel know that their service will also be remembered."

Clare Ericson Barkovic, Gold Star Widow of Army 1LT William Ericson, also attended the ceremony.
"Having my husband's name announced and remembered is a tribute that I can't thank the Alexandria community enough for," said Barkovic, whose husband was killed in action July 15, 1969. "Veterans Day is my birthday and it's a gift to share this day honoring the man, the soldier, that I was married to and shared hopes and dreams with as well remembering the many other men who sacrificed themselves so that others could live on in peace with their loved ones."
In his remarks, Rue noted that Capt. Rocky Versace, along with six of the 68 Fallen Heroes recognized on the Captain Rocky Versace Plaza and Vietnam Veterans Memorial in Del Ray, are still Missing in Action in Southeast Asia from the Vietnam War.
"The National League of POW/MIA Families is deeply grateful to the Friends of Rocky Versace and Kevin Rue for all they do throughout the year to honor our veterans and to encourage the fullest possible accounting for the 1,585 men still missing from the Vietnam War," said Luepke's mother Colleen Shine, daughter of Anthony Shine, whose remains were repatriated for burial at Arlington National Cemetery in October 1996. "These are our nation's unreturned veterans and that flag is a powerful symbol of our nation's commitment to the resolution of this important issue."
Participating in the ceremony were the St. Rita American Heritage Girls Troop 1381, who opened the ceremony with the Pledge of Allegiance. The Historical Trumpets and Flutes of the United States Army Old Guard Fife and Drum Corps performed musical interludes for the attendees of the private program.
Lilchy Huffman, Ms. Virginia Senior America, performed the National Anthem and Stephen Tracy of Bugles Across America offered Taps as the ceremony concluded.
Following the formal portion of the ceremony, Rue presented a Vietnam Veteran Lapel Pin to retired Navy Captain Fred Reese, recognizing his active-duty military service during the 1955-1975 Vietnam era.
"The ceremony was special in so many ways," said Susan Lilly Harvey, Gold Star daughter of MIA 1LT Larry Lilly. "What a reverent, meaningful event."
Added Barkovic: "To the Friends of Rocky Versace, thank you for the moments that 1LT Bill Ericson is respected and remembered for his great sacrifice."
For more information or to become a member of the Capt. Versace Memorial Association, contact the Friends of Rocky Versace at FoRV59@gmail.com