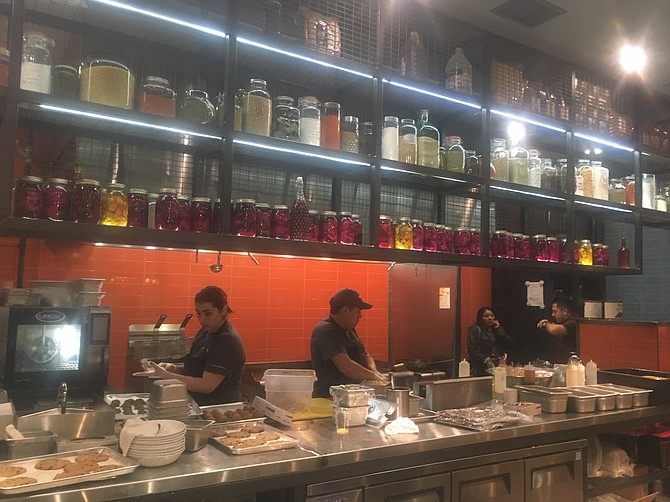 West Springfield resident Rebecca Bazzel was on her way to Whole Foods when she saw that Mezeh Mediterranean Grill was open a day early, so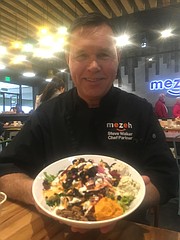 she stopped in Thursday for a bowl of Chicken Shawarma and all the toppings. The following night, Friday, Nov. 9, there she was again, but this time the line wound out the door the night of the grand opening special, a free "bowl," which usually is $9.25.
"It's authentic, people are open to it for sure," Bazzel said.
The Mezeh, next to Whole Foods in Old Keene Mill Center, offers three main dishes and a variety of meats, toppings, sauces and sides that screams ethnic and doesn't leave anyone hungry. "People are looking for a healthy alternative," said co-owner Steve Walker, who was spending as much time behind the counter as he was visiting tables and chatting to the customers. The Mezeh in West Springfield is the second to open in the area, after the opening of the Springfield Town Center location.
"I think the flavor combinations is what makes it unique," said Walker, who opened the chain with co-owners Saleh Mohamadi and Tai Chiao. "Being right next to Whole Foods is good," he said.
The 28 toppings are a combination of vegetables, cheeses, seeds, hummus and dips that give the dish a variety of flavors. Muhammad Jameel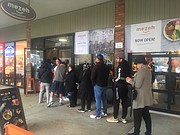 got the recommendation from his daughter in Rockville, so he had to try it. "Much healthier," he said.
The interior has a splash of the Middle East too, with a low-key color scheme, a community table and a shelf full of pickled peppers and cucumbers behind the serving line that are used in the toppings.
"It makes this place feel welcoming, the sharing of food," said Karen Wee, a Mezeh spokesperson who traveled over to Turkey and ate in similar restaurants. This area, which is known to be a mixing bowl of ethnicity, will work good, they figured. "A good mix of different cultures here," she said.
The word Mezeh is derived from the Turkish "meze," which means taste, flavor, snack, relish, said information released by the restaurant. Traditional Middle Eastern music provides the background soundtrack to the place, "as guests are taken on a multisensory journey to the Mediterranean region," their literature states.
The day starts at 7 a.m. for the chefs there, and they make "everything in small batches throughout the day," Walker said. They open for lunch at 11 a.m. A "similar concept," to tapas in Central American restaurants in the area, Wee said.