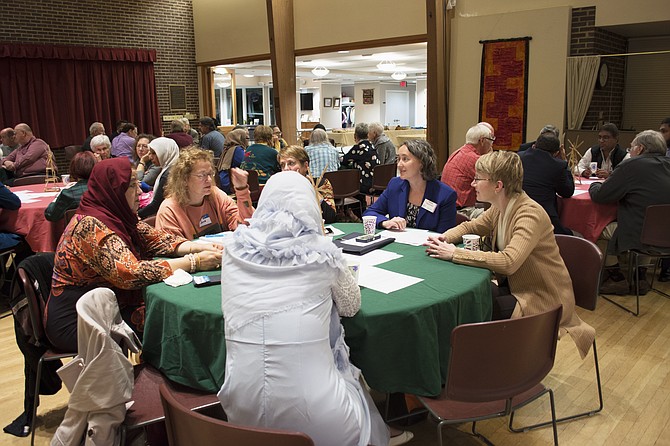 Members of both the Islamic Circle of North America (ICNA) VA Islamic Center and the Mount Vernon Unitarian Church (MVUC) gathered on Saturday, Nov. 3, to meet their neighbors and discuss the issues pertaining to gun violence at MVUC. The event strived to open up a community-led discussion in an effort to counter the intense current political climate surrounding the issue.
Fifty-four members from MVUC and 46 members from ICNA gathered to enjoy a meal and listen to religious speakers from both communities.
"The American strategy of preemptive strikes against its enemies is not making us safer, so I ask our government to now try to be preemptive in peace," said Naeem Baig, ICNA director of Interfaith Alliances.
Rev. Chris Buice, minister of Tennessee Valley Unitarian Universalist Church, encouraged similar thought-provoking statements, emphasizing the importance of peace and acceptance. Following the speeches, the words of both speakers led discussions amongst attendees.
"I think the two things that had the most impact on me were learning more about the horrendous statistics in regards to gun violence and the importance of finding more ways of counteracting the current focus on protection by this administration with a constant emphasis on prevention," said Sue Lamb, a member of the MVUC community.
Mount Vernon High School Muslim Student Association (MSA) members were also involved in the discussion. "Good things happen when good people get together. Tonight, we learned that in order to move a mountain, we must first move stones. Coming together to raise awareness around gun violence will slowly but surely make the change that this country needs," said Sameer Islam, Mount Vernon High School senior and MSA member. The sentiment of raising awareness and preventing gun violence was shared by all of the high schoolers in attendance.
"Thoughts and prayers won't stop a speeding bullet. We need to do our part to stop it first," said ICNA member Hina Munir.
Before leaving the event, attendees took part in signing letters to send to their representatives, voicing their support for a greater emphasis on gun control and a priority to be placed on reducing gun violence.