At the Operation Legacy Veterans Day of Service at West Potomac High School, the following speech honored the memory of Command Sergeant Major James Blankenbecler.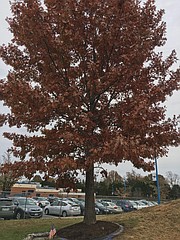 Next in this Veterans Day ceremony we honor our fallen hero. That's right, he's our fallen hero.
Have any of you ever passed through the entrance to the football stadium for a Friday night football game, a PE class, a cross country practice and glanced to your left to see a marble plaque on the ground with a small American Flag in front at the base of an adolescent oak tree? Ever wondered why the tree was planted and the plaque placed with the words "The Tree is Dedicated in Memory of CSM James D. Blankenbecler for his Dedication and His Sacrifice in Operation Iraqi Freedom" and the words "Always with Honor."
Several weeks ago, Ms. Statz, Steve Larsen and I were passing by this oak tree when I noticed the plaque I had never noticed before. We talked about it and all three sort of wondered, "Who was this guy?"
Within a day or two I was Googling the name and trying to find answers. I found a remembrance website where people had left messages after the CSM was killed.
One of them spoke of this person's character — even in high school:
"I photographed and knew James at Groveton High School and while most of the other athletes had big heads, James was always kind to me, he hung out with me at times, and always took an interest in my photos. I thought he was really cool for hanging out with a nerd (so I was called). I am deeply saddened by this loss; my sympathies go out to his family." Signed: Little Ernie of New York City
Interestingly, just below Little Ernie's remembrance of Jim were the words his wife Linnie had written: "My beautiful husband, I miss you so much. On your wedding ring were the words inscribed 'Always with Honor.' I loved being married to you and will honor your memory for as long as I live."
I could've left it at that for today's ceremony, but I just had to learn more about this star football quarterback from this very high school. Thanks to the Internet I tracked down two of Jim's Army colleagues. One a fellow Command Sergeant Major now retired and living in Texas, another a retired Colonel who was Jim's Commanding Officer in Iraq. Now retired and living in Tampa, Florida.
After a couple of messages on LinkedIn they responded and the CSM introduced me via email to Col. Rick Starkey — this was Jim Blankenbecler's Commanding Officer in Iraq. We spoke on the phone and he told me stories of Jim and what he meant to Rick. I asked if Rick would write a letter to you. And he agreed.
Now, I'd like to read the letter from Col Starkey to you, the students and faculty of West Potomac High School and the veterans gathered here today. Col Starkey's Mission as he said to me: to hopefully help you see the adolescent oak tree next to the football field in a new light.
Here we go …
Letter from Rick Starkey, U.S. Army, Colonel (Retired), and Battalion Commander of 1st Battalion, 44th Air Defense Artillery Regiment, with CSM Jim Blankenbecler serving as the Battalion Command Sergeant Major.
"Ladies and Gentlemen,
"I am particularly honored today to share with you, especially on Veteran's Day, the great legacy of CSM Jim Blankenbecler – a local hero. I wish I could be with you today, but I was unable to make the trip. Before I tell you about CSM Blankenbecler, I'd like to thank the Travis Manion Foundation and all of the volunteers for coordinating this event and for giving me the opportunity to share Jim's story. I'd also like to thank all of the Veteran's that are here today, as well as First Responders, and the families that support them.
"I'd like to offer my special heartfelt thanks and gratitude to those that have lost loved ones while in service to our great nation or those that have suffered life altering injuries. You are heroes to all of us and I salute your selflessness and patriotism. You, and those like you, represent the greatness of our country – and the epitome of living by a creed … a creed that follows the motto "If Not Me, Then Who?" and a moral courage that sets you apart from others. The sacrifices of our military and their families stand as a tremendous testimony, and Veteran's Day is a perfect day for all citizens to show our gratitude.
"As I wondered what I could tell you about CSM Jim Blankenbecler, my biggest wish is that after today's event, you will think of him as more than a name on a plaque under the Oak Tree by the football field — and that you'll in some way feel more connected to the special man he was. I'll begin by saying he grew up here, he's one of your local heroes, and graduated from Groveton High School in 1982 — while serving as the team's star quarterback. For the history buffs, in 1985 Groveton merged with Fort Hunt to become West Potomac High School — so Jim is one of your own as an alumn of West Potomac High. Those early leadership traits displayed on the football field and among his classmates were evident in Jim, and he was a thoughtful and considerate person that always put others first — and he always treated others with dignity and respect.
"Jim was a talent and could have done well in any profession, including receiving a football scholarship, but he found his calling as a Soldier. He was great man that lived his life with enthusiasm, integrity, and courage — and he was also a caring leader that always took time to listen, care for, and encourage others. He truly was an inspirational leader and Soldier, but he was also a passionate and caring person, and a wonderful son, brother, husband, father, and friend that was taken from us way too soon. His courageous and enthusiastic leadership style inspired others to be and do their best in every endeavor. Anything worth doing, is worth doing right and to the best of your ability.
"If you are anything like me, your life has been filled with some very good days ... even great days … But we also have challenging or even bad days. Such was the day when we lost CSM Jim Blankenbecler. 1 October 2003 was, and continues to be, the worst day of my life ... and there's really no close second. I have relived that day countless times and there is nothing I'd love more than to have the outcome of that day turn out differently.
"Jim and I had just finished promoting a Motor Sergeant to Sergeant First Class in Al Taji, Iraq on 30 September. CSM Blankenbecler wouldn't have missed being a part of that promotion for anything, and he always placed getting out and visiting Soldiers as a priority over his personal safety. After spending the night with Bravo Battery in Al Taji, we woke that morning like any other morning in Iraq. After spending the morning with Soldiers, we left Al Taji en route to Tikrit — our Battalion Headquarters, shared with the 4th Infantry Division Main Headquarters. The sun was going down and prior to our making it to our home base in Tikrit, at a place known as the Samara ByPass, our convoy encountered a rocket propelled grenade ambush. While each of the vehicles were fired upon, it was CSM Blankenbecler's vehicle that sustained two direct hits.
"His vehicle was still operational, and his driver, Specialist Preston Haley, was able to keep the vehicle moving to get out of the kill zone, as we are trained. What made the situation more difficult was their radio was no longer operational. I had no idea if anyone in the vehicle was hurt or how badly the vehicle had been hit, but it was still moving under its own power. For anyone that has experienced combat, it is a sobering experience. One minute, it is peaceful and calm, the next minute all hell breaks loose ... as you are being fired upon, there is momentary chaos — followed by responding as if it were muscle memory. As the vehicle pulled up to the secure assembly area, we had formed a few kilometers up the road, I immediately knew CSM Blankenbecler had been hit. While the other two in his vehicle had minor shrapnel wounds and hearing loss from the explosion, they were in far better condition than Jim. I couldn't have been more proud of the Soldiers' action that day and the bravery and response they all displayed — and it should fill all of you with pride knowing how bravely and honorably your military serve you around the world. Acts we often hear nothing about.
"I remember locking eyes with Jim when they first pulled up, but we were unable to share words. We removed him from the vehicle to begin CPR and to call for a medevac helicopter. Unfortunately, as he arrived at the Ballad Airfield Hospital, CSM Jim Blankenbecler was pronounced dead. I remember the doctor telling me that. My adrenaline was on full blast and I'd really been hoping he was going to be OK. For those that have never been in a situation like that, as I was giving Jim CPR, he aspirated in my mouth — a taste that remained with me for several days after the tragic event. I'd give him or any other CPR if I felt it could save their life. My uniform was soaked with Jim's blood. I remember having to borrow another pair of pants to wear back to the Battalion Headquarters, as I didn't want Soldiers to see me wearing the blood of their fallen Brother and their fallen Command Sergeant Major. That day was and remains the worst day in my life. I tell you those details so that you might understand the emotion and extreme rawness of that day, a day like many others have experienced by veterans. An experience most Americans will never have to experience thanks to our men and women in uniform. Despite that day being such a sad day, I remain so grateful to have served with him, and it has been my biggest honor to serve alongside America's best.
"Jim's sacrifice and bravery are unquestioned and heroic. Jim was the kind of man that left an impact on others and he inspired many people throughout his life — including mine. We lost other Soldiers in our Battalion, but to lose your Command Sergeant Major is a significant loss for any unit to deal with. I know that Jim would be honored by your observing and remembering him today. We lost a great man, a great leader, and a great friend, that day. I miss Jim's smile, I miss watching him talking to Soldiers and sharing his experiences with them, I miss his counsel as a teammate, and I miss his friendship. I know he's watching down on this ceremony today with pride — and I'm sure he and his family appreciate you showing him the respect he so definitely earned. Thank you all for coming to today's ceremony. I'd also like to thank all of the students from West Potomac High School — and I hope you'll think of Jim and the type of man he was anytime you see the Oak Tree and the plaque that bears his name. There is greatness in each of you and I hope and pray you find happiness and a way to make our world a better place. I also hope that you take time to give back to make you, your families, and your communities better … After all, if not you, then who?
"Thank You and God Bless!"
— Col. Rick Starkey, U.S. Army, Retired