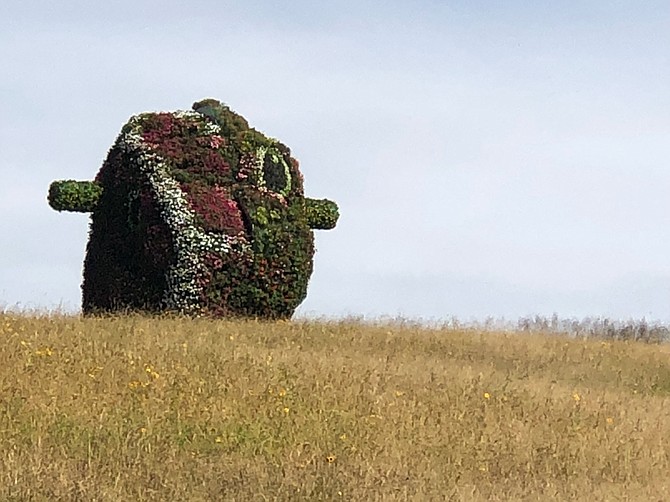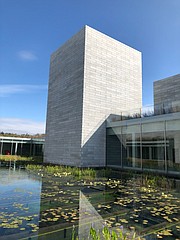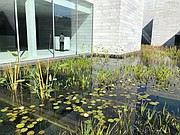 Potomac's Glenstone Museum, one of the nation's premier contemporary art museums, provides an opportunity for a relaxing day viewing world-renowned art, spectacular architecture and 230 acres of beautiful landscape. Located on Glen Road just a few miles from Potomac Village, the museum was the dream of Emily and Mitch Rales who envisioned Glenstone "not only as a place, but a state of mind created by the energy of architecture, the power of art, and the restorative qualities of nature."
On Saturday, Dec. 1 at 2 p.m., Glenstone's Community Outreach Coordinator Peter Ibenana will discuss the history of the museum, the collection of art, Glenstone's longstanding relationship with Montgomery County Public Schools and its commitment to environmental stewardship and sustainability. Additionally, four highly sought-after tickets to the museum will be raffled off at the presentation. The discussion is sponsored by the Friends of the Library – Potomac Chapter.
Rales purchased the former fox hunting club on Glen Road in 1986 to build a home. Soon thereafter, Rales began collecting art for that home. He first conceived of the idea of establishing a museum following a near-death accident on a helicopter trip, which inclined him to take on a philanthropic project.
Glenstone is named for the nearby Glen Road, and because of stone quarries located in the vicinity. The museum's initial gallery opened in 2006. A major expansion was completed in 2018, opening to the public on Oct. 4, 2018. Glenstone is now a cluster of distinctively designed museum galleries and other buildings set in a large wooded campus. The museum contains 1,300 post-World War II works consisting of paintings, indoor and outdoor sculptures, single artist installations and sound installations. It is staffed by recent college graduates through its "Emerging Professionals Program," a two-year program for aspiring curators.
Ibenana has been employed by Glenstone since 2015, primarily in community outreach with schools and local organizations. He has taught art and worked in museum education at several nationally and internationally renowned museums in Washington, D.C. and in Maryland.
"Major efforts have been made to create a sustainable long-lasting property," he said. "Eight thousand trees were planted, we restored the stream-bed to reduce large amounts of sediment running into the Chesapeake Bay and the Atlantic Ocean, and thousands of wild flowers, shrubs and grasses enhance the landscape. Our central building, The Pavilions, features a spectacular organically maintained 18,000-square-foot water court filled with plant life which can be viewed from above and below.
"We partner with Montgomery County Public Schools to eliminate the barriers that keep schools from coming to art galleries. Admission is free and we provide bus service for the schools to come here. We also offer substitute funds to cover classes. Last year, Glenstone welcomed more than 100 school visits. Prior to students' arrival, we go into the classroom to discuss the art that students will be seeing. This gives them the opportunity to ask questions before their visit — and again during the visit. We tailor the visits specifically to their interests.
"Glenstone is a place where one can enjoy the fresh air, nature and a quiet and simple environment. The museum inspires excellence – they made certain everything was done well. It is an excellent example of the combination of art, architecture and nature," he said.
Glenstone is located at 12100 Glen Road, about a 10-minute drive from Potomac Village. It can also be reached via the Montgomery County Ride-on Bus 301 Route from the Rockville Metro Station. The museum is open from 10 a.m. to 5 p.m. Thursday through Sunday. Free tickets are available in three-month increments and are released on the first of every month. (For example, December tickets were available on Oct. 1.) To fully experience Glenstone, visitors should be prepared to spend considerable time on foot, and comfortable walking shoes are recommended. The museum is accessible to the handicapped.
For more information and to reserve tickets, go to www.glenstone.org or call 301-983-5001.