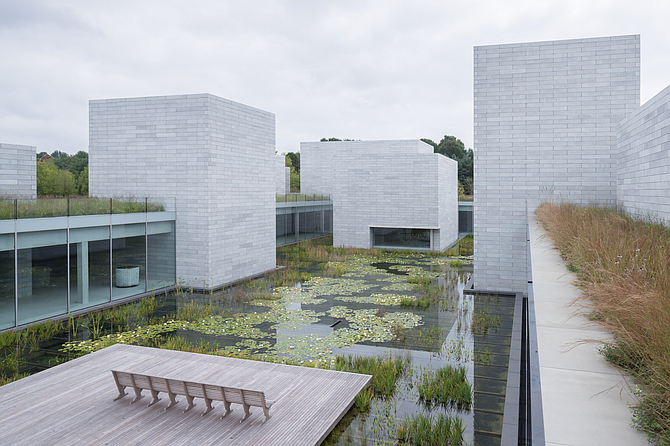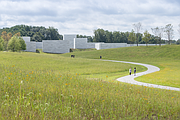 There are three good reasons to visit the new Glenstone Museum on Glen Road in Potomac: The art, the architecture and the landscape.
The three elements were designed to create a "seamless experience," according to Glenstone literature. And they do, making the choice of what to do, where to go, what to look at difficult. So, plan on more than one visit.
One more reason to visit, and there are several more before even writing about the paintings and sculpture, is the Water Court. The Pavilions at Glenstone is a grouping of galleries — separate but connected — designed around an open water garden planted with water lilies, irises and rushes that shift with the wind and change with the time of day.
The museum, which will open to the public Oct. 4, though starkly modern, is a warm and welcoming place for visitors.
"We are hoping you will enjoy it and make it your place," Emily Wei Rales, director and co-founder with husband Mitchell P. Rales of Glenstone, said at a press preview at the museum Friday. Sept. 21. "We will always be open for all, for free, this is something we are committed to."
Visitors will come from both near and far to see Glenstone's collection of modern and contemporary art. Among those at the Friday event were writers from across the United States and several from Europe.
Potomac will soon be known as the community that is home to Glenstone.
It is located on 230 acres at 12100 Glen Road, nestled along about half a mile of Glen Road, west of Piney Meetinghouse Road.
Glenstone originally opened in 2006 with one building, a 30,000 square-foot gallery designed by Charles Gwathmey of Gwathmey Siegel & Associates Architects. Since it opened, it has held both group and single artist exhibitions. The gallery is still a part of Glenstone, currently hosting an exhibition by Louise Bourgeois.
The current Glenstone has been 15 years in the making according to Mitchell Rales who said Friday it is "our gift to the world."
"I love art, I love architecture, I love nature," he said. "We could see people coming [to the original gallery] and their thanks inspired me."
The Rales looked for professionals who would collaborate with their vision and selected architect Thomas Phifer of Thomas Phifer and Partners to design the 204,000-square-foot building, the Pavilions, and landscape architects Peter Walker and Adam Greenspan of PWP Landscape Architecture, to perfect the naturalistic landscape "knitting the project into one seamless whole."
Throughout the grounds are several outdoor sculptures, a welcoming Arrival Hall, and paths designed to allow guests to unwind as they approach the Pavilions.
"We hope things will happen to people's minds that they don't even know will happen," Greenspan said.
Glenstone will be open Thursdays through Sundays from 10 a.m. to 5 p.m. Reservations are suggested at www.glenstone.org as the number of daily visitors will be limited to allow guests to enjoy an unhurried, uncrowded time in the galleries and grounds.
"We encourage a very meaningful experience with art," Emily Wei Rales said. "we don't want you to feel rushed while you are here."