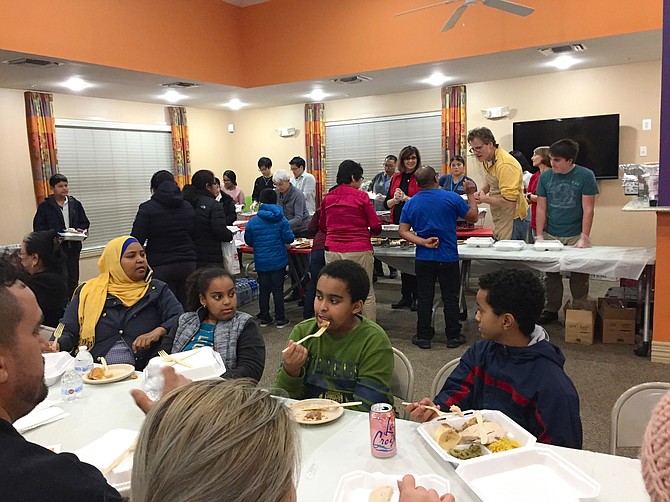 Turkey with peppers and onions with rice anyone? Arlington Housing Corporation (AHC) held two large Thanksgiving dinners on Friday, Nov. 16 and Monday, Nov. 19 for hundreds of residents of the affordable housing communities in Arlington. The dinners were held at six different locations.
The community came together as Marymount's Lacrosse team donated time and energy to creating meals, Arlington Lodge #58 donated a dozen cakes and pies for a dessert raffle, and AFAC donated pies and canned goods. The 30 turkeys were purchased and cooked by AHC staff and volunteers.
Each dinner was different depending on the inspiration of the cooks. You might have turkey with collard greens and spicy mac and cheese with a side of pork BBQ or the more traditional mashed potatoes, green beans, stuffing and corn.
"Thanksgiving is a time to celebrate family, togetherness and community," said Susan Davidson, AHC's resident services director. "It's a wonderful opportunity for our residents and volunteers to come together and share different backgrounds and traditions."
AHC is a non-profit founded in 1975, AHC Inc.'s mission is to produce and preserve high quality affordable housing for low- and moderate-income families in the mid-Atlantic region and to build strong futures for our residents through onsite educational programs.