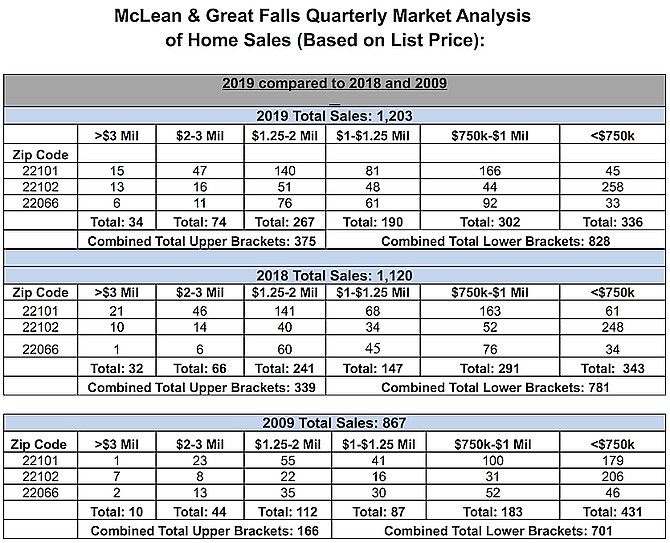 The dawn of a new decade has arrived and 2019 has come to a close. The statistics for 2019 real estate transactions in McLean and Great Falls have been tallied. The numbers are up 7.4 percent year over year, with 1,203 total transactions in 2019 compared to 1,120 the previous year. The even better news is the market is considerably improved over 2009, which came in at only 867. That represents an increase in sales of 38.8 percent over the last decade. The improvement in the market is likely due to several reasons.
Over the past year, interest rates have bounced around, and yet remain at historic lows. As interest rates rise, which could happen in 2020, buyers' purchasing power may be affected. On the flip side, there can be a positive market impact too, as buyers feel urgency to purchase and lock in their interest rate.
In many price segments, inventory levels are low relative to demand. This is predominately the case in the lower price points below $1 million. When there are fewer choices available, buyers are faced with several options. In those market dynamics, home purchasers often raise their price point, make concessions including housing type, location and upgrades, or put the move on hold. Some sit on the sidelines to wait for prices to be in line with their purchasing power and others wait for more homes to become available.
Almost every price bracket improved considerably in comparison to the 2018 market. Inside the Beltway, the McLean zip code of 22101 continues to remain the strongest due to the most housing type options and proximity to D.C. metro center and Amazon HQ2. Outside the Beltway, the McLean zip code of 22102 offers both condos in the Tysons market as well as estate style houses on large lots.
Looking forward into 2020, the national elections in November have the potential to impact the real estate market in the fall. This is particularly the case as Northern Virginia is just across the Potomac River from Washington, D.C. Uncertainty, in many cases, causes buyers and sellers alike to put moving decisions on hold.
There remain strong indications for sellers that homes priced well and in good condition will sell for solid prices. If demand continues to remain strong relative to supply, some market segments may experience price appreciation.
Home buyers in the area can still purchase with the confidence that buying in an up market cycle frequently proves advantageous over time. Now is the time to work with a professional agent to be in your new home in 2020!
Karen Briscoe with HBC Group at Keller Williams is an active and experienced Realtor® in the Northern Virginia marketplace. Briscoe, alongside her business partner Lizzy Conroy and team, works with sellers, buyers, investors and builders in all price ranges. www.HBCGroupKW.com, 703-734-0192, Homes@HBCGroupKW.com.