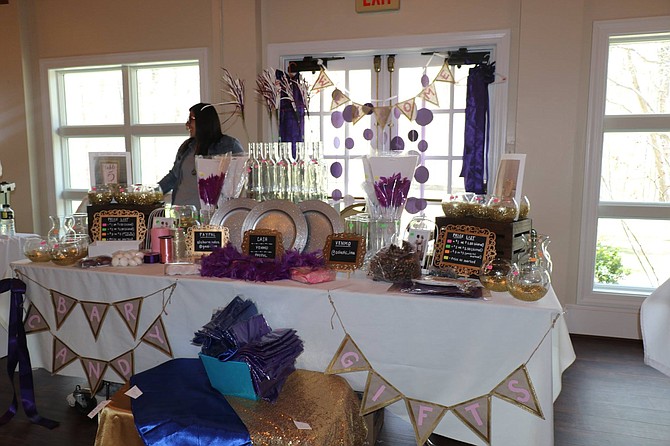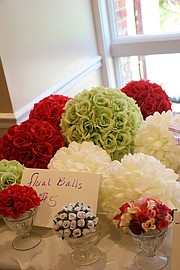 Now there is a chance for brides, past, present and future, to network, exchange ideas and tips and celebrate their futures. It is also a place where wedding party supplies can be bought and sold.
It is the Upcycled Wedding Fair to be held from 11 a.m. to 2 p.m. Sunday, Oct. 14 at Rockwood Manor, 11001 MacArthur Blvd. Potomac.
"You never know what you are going to get," Allison Fuentes, manager of Rockwood Manor, said. "It's like a big wedding yard sale."
Fuentes said she spoke with one Rockwood neighbor whose garage is a storage depot for table cloths, runners, glassware, and other items from her daughter's recent wedding. That neighbor was happy to learn about the Upcycled Wedding Fair, she said.
Fuentes also said 75 people have already registered to attend the event, which is free for shoppers. Those wishing to sell items are charged $20 and must register so a place can be set up for them. Registration for vendors is at: https://bit.ly/2vz1CGG (Activity #: 56653).
This Month's wedding fair is the second at Rockwood, the first was April 22, Earth Day, when it was tied to the idea of reusing wedding items.
"It's good for the planet," Fuentes said.
It was a beautiful April Day, Fuentes said, and the event was "quite successful."
"The feedback I got was that people just enjoyed hanging out," she said.
Visitors are encouraged to walk around and become acquainted with Rockwood Manor, a 30-acre former estate operated by Montgomery Parks, Fuentes said.
"People are discovering Rockwood, it's so exciting," she said.
An extra bonus of the Upcycled Bridal Fair will be the raffle. Montgomery Parks is offering the use of Brooke Hall, one of the party/meeting rooms in the Manor House, for an eight-hour event.
For more information or to register for the Upcycled Wedding Fair, call 301-563-7510 or email RockwoodManor@Montgomeryparks.org.