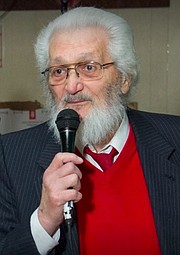 Howard David "Uncle Dave" Jay, an iconic figure in the Town of Herndon, the District, Maryland, Virginia and Buffalo, N.Y. died Oct. 2, 2018. He was 78.
Originally from Hollywood, Calif., David studied architecture at Pratt Institute in New York City. In 1961, he was drafted into the United States Army, and two years later stationed at Fort Belvoir. David remained in the D.C. area for rest of his life.

In addition to his deep love for his family, David had a passion for all things sports, especially for the Buffalo Bills, Sabres and New York Yankees. He was a strong supporter of "Buffalo Nites" in D.C. attracting thousands of patrons to the Jimmy's Old Town Tavern Booth. The New York State Society of Washington, D.C. recognized David in 2014 for outstanding achievement and ties between Buffalo and D.C. with the "Charging Buffalo Award."
David spent 25 years as a Babe Ruth League Youth Baseball coach, and in 2015 because of his accomplishments with the League and for helping his alma mater, Bennett High School win three consecutive Cornell Cups, 1955, 1956 and 1957 he entered the Bennett High School Sports Hall of Fame. David was a regular character on the Mike O'Meara Radio Show and Podcast. Through the radio show alone, David had thousands of friends and fans from all over the world.
Other passions included a strong volunteer ethos, commitment to the meaning of patriotism and respect for the American flag.
During the Oct. 8, Jimmy's Old Town Tavern Memorial to David, owner Jimmy Cirrito said, "He was, and always will be a celebrity in his own right. Known and loved by thousands, he loved every one of us right back. There will never be another, Uncle Dave, may we all continue to remember and celebrate him for years to come."
His wife, Ann Marie, precedes David in death. He leaves behind his three sons, Joshua, Joseph and Jacob, stepdaughter Wendy, grandchildren and an extended family.
The family will share plans for a Memorial soon. Donations can be made to The Babe Ruth League, Inc. Alumni Association in Memorial of H. David Jay. http://store.baberuthleague.org/alumni-association-donation.