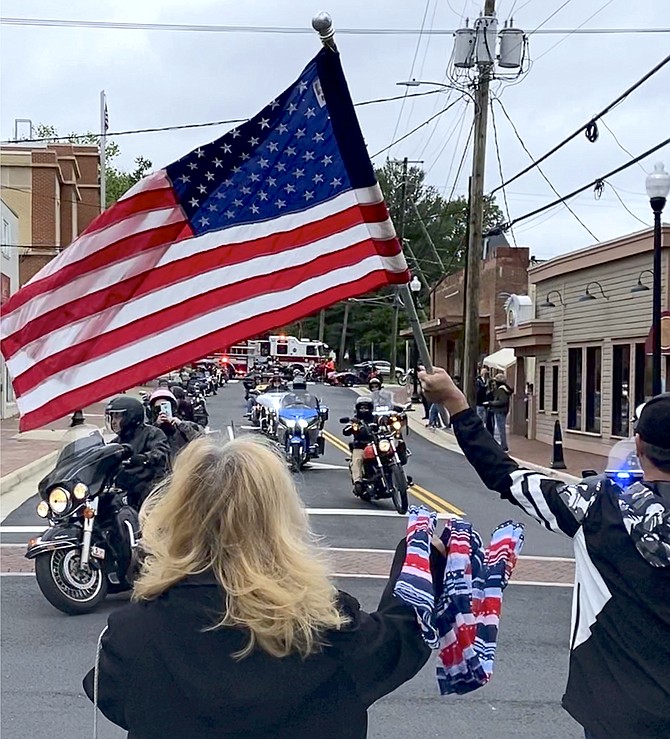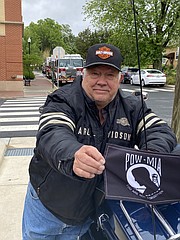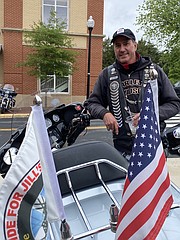 On May 30, Jimmy's Old Town Tavern in Historic Herndon held its annual Memorial Day Weekend event. Jimmy Cirrito is the owner and operator of the cozy, vintage tavern located at the corner of Elden and Spring streets. Since he opened the tavern 24 years ago this weekend, his heart overflows with a fierce love for his family, employees, friends, the Buffalo Bills, and those who honorably serve or served in the U.S. Armed Forces. But deep in his heart is a place for the extraordinary men and women who served in the U.S. military and died in the performance of their duties.
Motorcyclists gathered at 9 a.m. at Jimmy's for complementary breakfast and to join in convoy to  Rolling to Remember 2021 Washington, D.C.  Amvets organized the event for its third year replacing longtime Rolling Thunder. Because of the coronavirus pandemic, no formal ceremony or gathering was held on the Mall. As the bikers finished eating, Cirrito and others shared who they thought about and honored this Memorial Day.  Cirrito took several moments considering his answer, tears welling. "In my eyes, every day is Memorial Day. Thank you to those who sacrificed all and their families. God, bless America."
MURPHY said that he was an Army brat. "I'll be thinking about my dad, who served in Vietnam. While he is not on the Wall [Vietnam Memorial], many of his comrades are.  Dad died in 1985. I ride in his honor." Murphy then walked over to his motorcycle and held out a small POW-MIA flag attached behind the saddle. The Rolling to Remember 2021 Washington, D.C. motorcycle demonstration is "to raise awareness of the critical issues facing our nation's veterans and demand action for the 82,000 service members missing, as well as raise awareness of the 22 veterans who die by suicide each day," according to https://www.rollingtoremember.com.
Motorcyclist Joe Livingood of Reston, who would later lead all in prayer before the convoy left, said that his father served in the Coast Guard and his brother in the Navy. "I thank all those who served and are serving our country and honor them for that service. I have family members named on the Wall." 
During remarks, Herndon's mayor Sheila Olem welcomed everyone to the town and Jimmy's. She said that the reason people were gathering there that morning was to remember the United States military men and women who served and died serving.  Olem said her parents grew up as teens during World War II. When the bombs hit, they lost many friends, so Memorial Day had always been something close to their hearts and hers.
"I want to let everyone know…my heart goes out to the friends, family, and comrades of all those individuals who sacrificed to keep us free and to continue to make America the place that people want to come to. God, bless America. God, bless everyone who ever served [and] their family members," said Olem.
MOMENTS LATER, rubber hit the road. Sgt. Furman, SPO Eicke, and Cpl. Passmore of the Town of Herndon Police Department escorted the motorcycle convoy leaving Jimmy's down Spring Street and onto Elden. They passed by Josh Jay waving a giant U.S. flag and Mayor Olem waving her red, white, and blue scarf. Ride leaders John Murphy and Doug Thompson took over the convoy lead at the town limits. They guided the staggered formation to George Washington Parkway through Great Falls and rolled to the Vietnam Memorial in Washington, D.C.
When the bikers returned to Jimmy's later that afternoon, live music and food awaited. The sale of special edition t-shirts and paraphernalia benefited Operation Homefront. The nonprofit provides programs that address short-term and critical financial assistance – food, utilities, home repairs, rent/mortgage payments; long-term stability – mortgage-free homes and a veteran caregiver support program; and recurring family support-baby showers to welcome veterans' newest family members, holiday programs to provide meals and toys, and backpacks filled with school supplies for military kids, according to the organization's website.