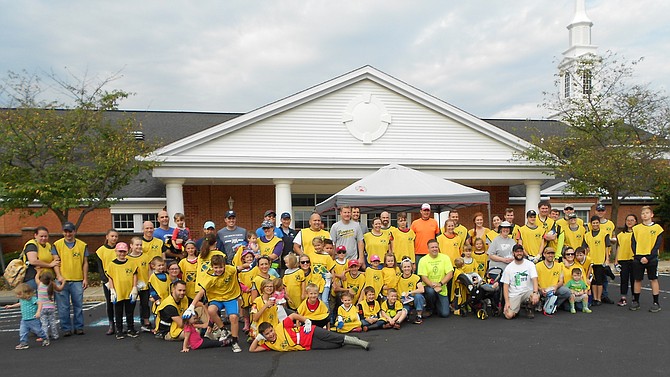 Two local service projects were held as a part of this year's Day-to-Serve. Virginia Gov. Ralph Northam issued a proclamation recognizing Sept. 11 to Oct. 10, as Day-to-Serve 2018.
This is the third year that the Kingstowne Congregation of the Church of Jesus Christ of Latter-day Saints, as part of the annual Virginia Waterways Cleanup, hosted the project inviting other faiths and community to participate. They picked up trash and other litter in the streams and waterways around Kingstowne. The project data is recorded for Longwood University's environmental research. This year, 80 people, including children, picked up 987 pounds of trash with the most unusual item removed a garage door.
The Franconia Congregation of the Church of Jesus Christ of Latter-day Saints continued their annual work of donating food to feed the hungry in the community. About 70 adults and children from the community collected donated food & sorted to create care packs for the local chapter of Blessings in a Backpack. The care packs will be distributed at local schools for designated children to take home to have food on weekends. More than 600 care packs were assembled and donated along with eight boxes of extra food to be used for future backpacks. They also donated a couple hundred pounds of food to Koinonia and Rising Hope.
Saturday morning, Sept. 22, Fairfax County Supervisor Jeff McKay stopped by both local Day-to-Serve projects to thank the volunteers. At the Stream Cleanup, he spoke to the volunteers at the beginning, acknowledging that for many this isn't their first stream clean-up. He commented that the streams don't belong to the county, they belong to everyone. "This is more than about cleaning streams, it's about building community." At the food sorting, he visited with volunteers and asked about the process to collect more than 1,700 pounds of donated food that was accomplished the week before that day of sorting.
These two Day-to-Serve projects were completed on the same day to benefit the environment and the hungry in the Franconia and Kingstowne areas.
For more information about Day-to-Serve, visit www.daytoserve.org.