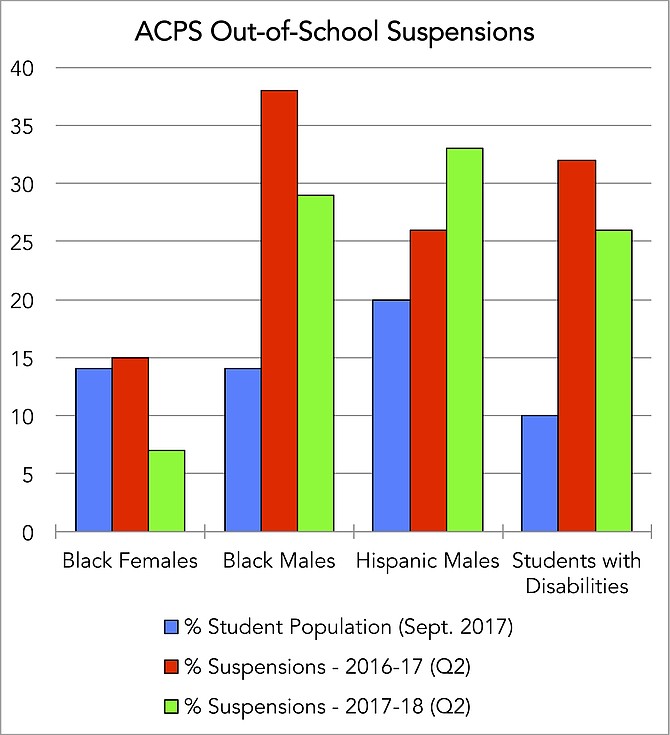 "We are looking forward to whomever is elected…and hope to work together with them…" —Ingris Moran, Tenants and Workers United
School Board candidates broadly supported efforts to tackle issues disproportionately affecting students of color at a candidate forum hosted last week by Tenants and Workers United.
Tenants and Workers, a community organizing nonprofit, seeks "to raise the voices of those that are most directly impacted on social issues," said Lead Organizer Ingris Moran. The forum served as "an opportunity to educate candidates and the community at large of what our communities of color care about."
All 16 candidates, who are competing for nine seats, participated.
Asked whether they "think Immigration and Custom Enforcement (ICE) should have access to our schools," all candidates said no.
Asked whether they'd "support the creation of a task force or committee to examine ACPS [Alexandria City Public Schools] disciplinary practices," all said yes.
Asked whether they'd "commit to supporting funding for Pre-K for all ACPS elementary schools," all said yes.
Asked whether they'd "support a student-led student survey that measures cultural competency, respect and school climate," all said yes.
The candidates were asked how'd they reduce out-of-school suspensions, which moderators said "have disproportionately affected students of color."
The candidates generally approved "restorative practices," which the schools already employ. These methods see an offense as "an opportunity for learning," focusing on repairing relationships rather than strictly on punishment, according to the schools' student code of conduct. For example, "restorative circles" bring together "those affected by the behavior to share their perspectives on how they were impacted and thoughts on how the situation can be 'made right' …."
Meagan Alderton (District C) supports the use of restorative practices, but cautions that they're no substitute for "high quality instruction," which is "the best behavior management tool."
The schools need "fidelity in the practices that have already been established," said Dianara Saget (District C). She says she took her own children out of school because they were suspended at the elementary level.
Asked if they'd commit to allocating $300,000 "to have an adequate number of restorative practice coordinators and trainings to expand the program," all but two candidates said yes. Incumbent Cindy Anderson and Abigail Wacek (both District B) said no.
Anderson later clarified that she generally supports restorative practices, but "did not feel it was appropriate to commit to a specific funding amount."
Wacek said she thinks restorative practices "sound very promising" but, before committing more money, wants to see more evidence of results.
The candidates were asked for their "thoughts on the role of school resource officers" — police officers assigned to Alexandria's three middle and high schools. The officers are currently "called on to handle minor discipline infractions," the moderators said.
Candidates widely approved using resources officers, but not for minor infractions.
"Their role should be limited to … building relationships with students … so that they can thwart the next school shooting or the next incident of a major nature," said Chris Suarez (District A). But "we should leave it to the teachers, who are best equipped … to handle the minor incidents."
Incumbent School Board chair Ramee Gentry expressed doubt that the officers are misused.
"A significant drop in nonviolent suspensions shows that, actually, [they're] not getting prematurely called upon for minor infractions," she said.
A few candidates expressed more wariness about the resource officer concept.
"High school may feel like prison when you're in the middle of math class, but it shouldn't feel like an actual prison," said Abigail Wacek (District B). "If we expect violence, we get violence."
"I don't feel guns should be in a school, period," said Saget, referring to the fact that resource officers are armed.
Moderators asked whether "the International Academy at T.C. Williams enables a culture of segregation" as "some would argue." This academy, now also including Francis Hammond Middle School students, provides specialized English language instruction to immigrant youths.
Tenants and Workers' youth with personal experience in the academy have indicated that "do not feel part of the entire T.C. Williams High School," said Moran in a later statement.
The candidates mostly expressed a rosier view, lauding the academy as providing the right kind of targeted education.
"This is something for new students, to help them acculturate, linguistically and culturally," said incumbent Margaret Lorber (District B).
However, some said they perceive segregation elsewhere in the division.
"By and large [International Academy students] seem satisfied," said Marc Solomon (District A). "But, let's be real, our segregation starts in this system before pre-K."
"I see [a culture of segregation] starting in the elementary school, with our Talented and Gifted Program," said Michelle Rief (District A).
This program provides "differentiated services beyond the regular curriculum" to students "whose accomplishments and/or demonstrated abilities indicate the need," according to the school system. White students are overrepresented in the program by 35 percentage points, while black and Hispanic students are underrepresented by 13 points and 25 points, according to a 2017 study.
"Sometimes we have two different sets of expectations for different groups of kids. I think it's wrong and I think it needs to stop," said Rief.
"We are looking forward to whomever is elected … and hope to work together with them on school safety, school discipline and closing our achievement gap," said Moran.
Watch the forum at www.facebook.com/TenantsandWorkersUnited.