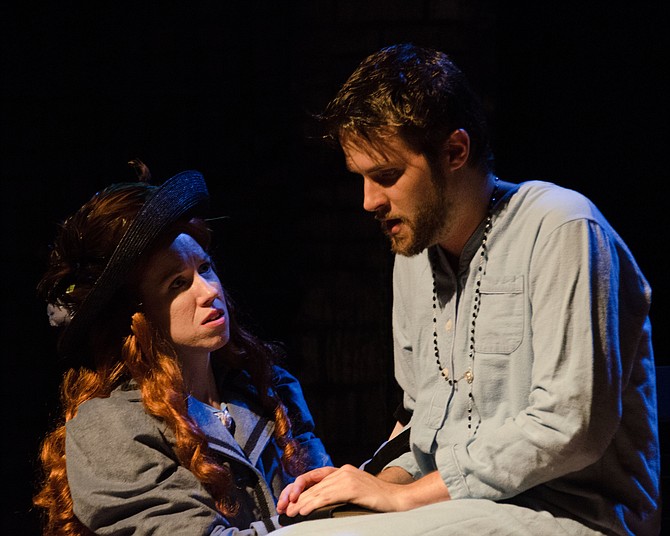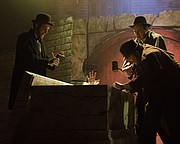 Bram Stoker's classic tale of gothic horror comes to life – and death – on stage at the Little Theatre of Alexandria. Join the colorfully macabre cast of characters as they take you on a breathless and bloody thrill ride from the depths of Transylvania to the heart of Victorian London. Rich with both humor and horror, this play paints a wickedly theatrical picture of the world's most famous vampire. The show written by Steven Dietz runs from now through Nov. 3.
Co-producer Nick Friedlander said he's been a horror movie junkie and involved with theater since the age of 10, so he couldn't easily pass up an opportunity to marry those two interests together. "Having just moved to Virginia a year ago, I can think of no better way to celebrate Halloween than to oversee a production with an exceptionally talented technical team and amazing actors in my new hometown," he said. The other co-producer is Charlotte Corneliusen.
Director Jennifer Lyman said she is drawn to dark and twisted dramas and "Dracula" fits that bill. "It is a complex play that requires both actors and the designers to stretch themselves in order to tell the story in a relatable way while also thrilling the audience," she said. "I have a lot of technical experience and am very organized so I was confident that combining my skills, knowledge, and lots of spreadsheets with a stellar cast and designers would result in a successful show."
She added: "Everyone has heard of Dracula and has an image in their mind of this iconic character. However, no two audience members will walk into the theater with the same expectations of our show. I want the audience to be entertained, thrilled, surprised, and satisfied that we have delivered Dracula even if it varies from their expectation. It is also important to me that everyone working on Dracula has a good experience — that they feel they were able to collaborate and they share in the show's success."
Chris Andersen is playing the role of Dracula, who has been growing old and weak in Transylvania. "He hungers to go to London where the people are. And he draws people to him because he is hypnotic and desires people intensely," he said.
He added: "The special effects are amazing and fun to work with. It can be a challenge to time your performance so all the music, howling and blood happen at the right time. It is also difficult to talk with fangs in your mouth."
"Everybody in the show wanted to work on this play because we love the story of Dracula. We hope the audience is drawn in to our version of the story and feels the chills and romance we feel," he said.
Jeff Elmore is playing the role of Renfield, an inmate at an insane asylum who has a history with Dracula. "He begins the play as a simple object of curiosity, but as the play progresses, he becomes more complex and dangerous," he said.
He added: "My biggest challenge in playing Renfield is controlling his more wild moments. Renfield is a showy role, so the instinct is always to be loud and sporadic, but going too loud or too sporadic makes the play unwatchable. It's taken some practice to block and control him while accounting for his unhinged behavior."
As far as audience takeaways, he added: "I hope audiences are scared and thrilled, in that order."
Kirk Lambert is playing the role of Van Helsing, a Dutch doctor with a wide range of interests and accomplishments, partly attested to by the string of letters that follow his name: MD, D.Ph., D.Litt., etc., which indicate a wealth of experience, education and expertise, he said. "He is a philosopher and a metaphysician and one of the most advanced scientists of his day. He is also a bit arrogant and dismissive of those who are not possessed of his perceived level of expertise. Van Helsing's personality is described by John Seward, his former student, as being a seemingly arbitrary man because he knows what he is talking about better than anyone else," he said.
He added: "One of the challenges was the manner of speaking in Victorian England which was further complicated by Van Helsing being Dutch. He has a slight accent while speaking English and his sentence structure is a bit convoluted. Did I mention props? I have the pleasure of handling a transfusion machine, medicine bags, garlic, crucifixes, hosts, stakes, a wild rose, a letter, and a lantern. The amount of dialogue and the playwright's propensity to often have his characters speak in lengthy monologues was also challenging."
Heather Benjamin is playing the role of Mina Murray, who is engaged to Jonathan and best friends with Lucy. "She is a traditional young lady of the era, but she also desires to take part in the activity of the world and be useful. Throughout the play, she keeps trying to learn more, to help counter the mysterious dangers surrounding the people she loves. She is brave, determined, and sincerely religious, but also vulnerable to the gravitational force exerted by Count Dracula," she said.
She added: "It's the most tech-heavy show I've ever done, so being continually aware of your props, special effects, sound cues, and spacing on the set takes up a lot of space in your brain. Maintaining your character's emotional investment and through line is really important to fill out the story and give life to the dramatic effects, but it's a challenge to do that when you are always so conscious of all the practical elements."
The Little Theatre of Alexandria is presenting "Dracula" from now through Nov. 3. Show times are Wednesdays through Saturdays at 8 p.m.; Sundays at 3 p.m. Tickets are $21-$24. Dracula contains sexuality and violence. This production is not recommended for children under the age of 15. The venue is located at 600 Wolfe Street, Alexandria. Visit www.thelittletheatre.com.