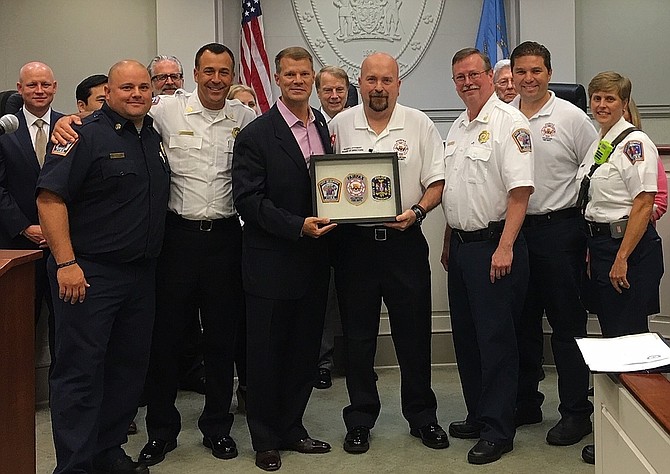 "To my colleagues, current and former, I'll watch [the Council meetings] from home, and you know how to reach me if you need me." —Jeff Greenfield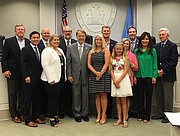 Jeff Greenfield served more than two decades on the Fairfax City Council. And family, friends, Council colleagues and City staff recently gave him a special sendoff to let him know how much his many years of service meant to them and to Fairfax.
They held a reception in his honor, Sept. 11, in the City Hall annex's atrium, Then came further recognition in Council chambers before that night's meeting. Mayor David Meyer noted that Greenfield is a hometown boy and an Eagle Scout who graduated from both Fairfax High and George Mason University.
Greenfield then worked for the federal government prior to becoming an independent businessman. But in Fairfax, he's most known as a Councilman. "Jeff has the longest tenure on our City Council – 24 years. We're proud of his service on the Council, and we express our appreciation to him and to his family for supporting him while he served our City."
Alex Robbins, on U.S. Rep. Gerry Connolly's (D-11) staff, then presented a resolution to Greenfield. "A statement recognizing him on his retirement is entered into the Congressional Record," said Robbins. He also noted that, unlike most things in Congress, this resolution passed unanimously.
Former Fairfax Mayor John Mason said Greenfield was active in their neighborhood and helped him in all his election campaigns. Noting some of Greenfield's attributes, Mason said, "He has an absolutely incredible memory, and he does his homework and comes to Council meetings well-prepared. I was pleased to work with him and see that he's done so well over 24 years."
NEXT TO SPEAK was former City Councilman Steve Stombres. "When I was first elected to City Council, I was seeking out somebody that could help me understand the issues – somebody to be a mentor and a friend, and somebody to be a sounding board – and Jeff was always there to help his colleagues," explained Stombres. "He was a thoughtful, deliberative member of Council, and the City has benefited from his years of service."
He said personally, and as a community, Fairfax is grateful to Greenfield for all he's done, and it was a pleasure working with him. He also recalled how Greenfield's wife, Lisa, was often by his side on the campaign trail. Then, speaking directly to their 12-year-old daughter, Alexandra, Stombres thanked her for "sharing your father with our community. I know he's always been so busy; but now, you're going to have plenty of time to spend with him."
Former City Manager Bob Sisson said, "I was delighted to get to know him. All of the things that have been said about Jeff tonight are true." Sisson said he envied the relationship Greenfield and his father had. "Ray and Mary Greenfield are great parents, and [he told Greenfield], you're duplicating that with your own family. I have a lot of respect for you, Jeff. The City's been made better by your leadership, and we'll miss you."
Agreeing, Meyer said he was neighbors with Greenfield's parents, so working with him "was a good reminder of the friendship I had with his family. Many times, I've witnessed Jeff's helpfulness and quick humor."
Then, addressing him directly, Meyer said, "On behalf of all of the members of the City Council, past and current, we thank you for your service. You've made a difference in the lives of individuals and also in the corporate life of our community." He then presented Greenfield with a pair of sterling-silver cufflinks engraved with his name and the words, "City of Fairfax."
Fire Chief John O'Neal also took part in the ceremony, giving Greenfield framed shoulder patches from the City of Fairfax Fire Department, Volunteer Fire Department and Police Department. "We want to thank you for your personal and professional support," said O'Neal. "Your contributions while on City Council truly made the City a safer place, so we want to give you a small token of our appreciation."
GREENFIELD thanked everyone for being there and said how happy he is to now be able to spend more time with his wife and daughter. "They've been very patient as I've continued to serve, trying to make a difference in the community," he said. "To my colleagues, current and former, I'll watch [the Council meetings] from home, and you know how to reach me if you need me."
Expressing his gratitude to everyone in the City, Greenfield said, "It's really been a great ride. But it's all about you; it's not about those of us up here. We serve, but this is a community because of our public-safety folks who put their lives on the line every day, the staff that works here at City Hall and, certainly, our great residents."