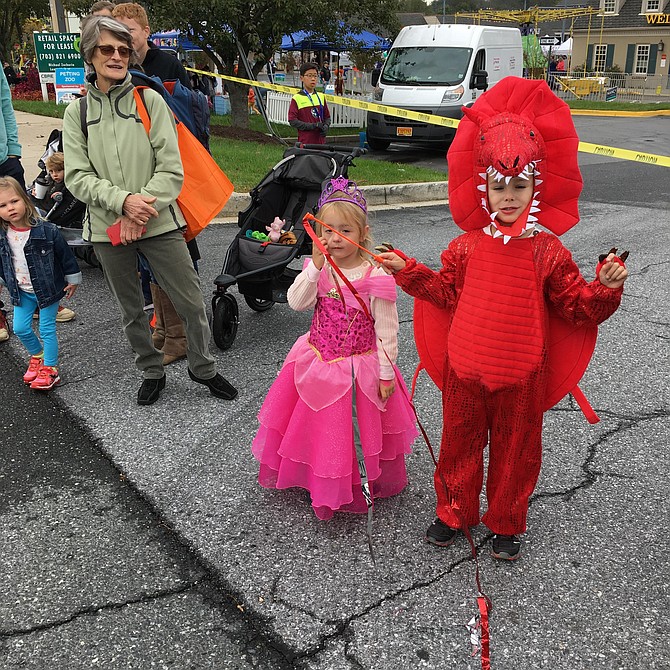 Roads closed, music playing, people gathering…it was time for the 36th annual Potomac Day parade to begin.
And begin it did.
At 10:30 Saturday morning, Oct. 20, led by a Montgomery County motorcycle police officer, followed by Alex Smelson from Boy Scout Troop 773 at Potomac United Methodist Church, carrying the American flag, the parade started down River Road.
As the flag passed the Long & Foster office building Chrissellene Petropoulos sang the National Anthem. Petropoulos is a trained opera singer who teaches voice lessons to many Potomac residents.
School groups, politicians, scouts, local business people, sports teams, politicians, local clubs, Friends of the Library and more politicians paraded down River Road waving to friends and other spectators, showing their pride as Potomac citizens.
With 36 years of history, Potomac Day has grown but is still true to its original purpose said Adam Greenberg, president of Potomac Chamber of Commerce, which sponsors the event every year.
"It is our business community saying thank you to the community," Goldberg said. "I think it was great, the parade was a little longer than usual. A lot of that is because it is a political year, that's always fun with politicians stopping to shake hands."
And, he added, there were tons of people at the festival after the parade.
Business display booths, rides and lots of inflatables and an antiques car show took up most of the parking lots on both sides of Falls Road. It was probably one of the only days in the year residents didn't complain about the lack of parking.
Janet Bobrow and her daughter Anna stood on the corner of River and Falls roads waiting for the parade to begin. They drove down from Perry Hall, Md, where they now live just to be a part of the day and allow Janet Bobrow to relive old memories and share them with Anna. "I used to live her 20 years ago," Bobrow said. "I had a lot of memories here."
Pepe Gaye, assistant manager of the BP station at River and Falls, watched the parade as he has since 1987. "I like it, it's just nice to get together," he said. "This is a nice community."
So too do Potomac Elementary School students Sheraz Bashir, a fifth grader, his first-grade brother Shazil and their 20-month-old sister Zara, who watched the parade with their mother.
The boys had a great time picking up candy thrown from cars, floats and trucks in the parade and taking them back to show their mother their growing collection of goodies.
Sarah Bashir said the boys have been attending the parade all their lives.
"I always have fun," she said.
When the parade ended, the festival began with plenty to do for all ages.
There were rides and games to play, animals to pet, pumpkins to decorate, businesses to learn about, pizza to eat, free samples from Vie de France and Sprinkles, a climbing wall and the antique cars to look at.
Sisters Laila, 6, and Dani, 4, rode the Mind Winder, which took them off the ground, spinning and twisting through the air.
"It was awesome," Laila said. "Whenever we wanted to spin we could go faster."
Dani agreed. "I couldn't stop laughing because it was so much fun," she said.