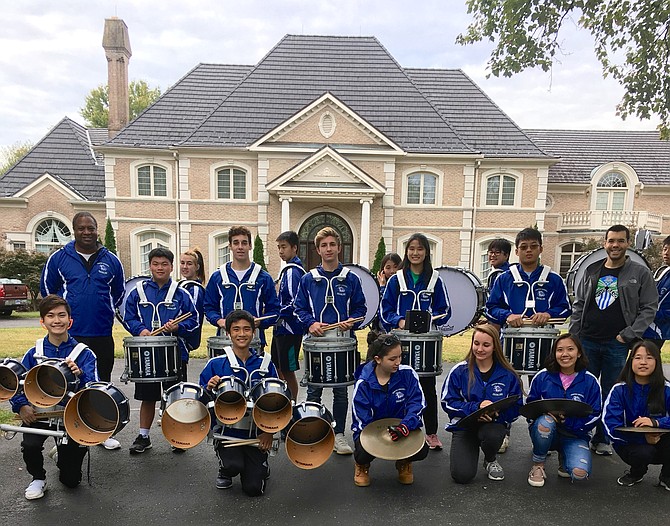 Pepe Gaye, a long-time employee of the BP Station at the corner of River and Falls roads, stood on the island across from the station watching the Potomac Day Parade Saturday.
It was the 32nd time he watched the annual community event.
"It's changed over the years," he said, noting that there used to be horses and more bands.
Still, he enjoyed being there watching as cars and kids, politicians and dogs, even a llama and Peter Rabbit paraded past on a beautiful Saturday.
"We love it," Zoe Acadia said as she and her daughters Maddie, 11, and Lyla, 10, walked around the parking lot on the Potomac Place Shopping Center, watching visitors enjoy the many inflatable activities.
"We've been coming for six years," she said. "We had soccer games early [today] so we could come and stay for the whole thing."
A Montgomery County Police Motorcycle officer lead the parade down River Road, followed by the color guard from Boy Scout troop 773, which meets at Potomac United Methodist Church.
Potomac resident Chrissellene Petropoulos who once sang with both the Vienna State Opera and the Kassel State Opera in Germany, sang the National Anthem as the parade began.
Long and Foster realtor Sue Ader Groups announced the parade groups as they passed through the intersection of River and Falls. She said she thinks she has been the Master of Ceremonies for the event for four or five years.
"I love it, it's a great community and this is a nice showing of our sponsors," she said.
As the parade ended, events in the parking lot of Potomac Promenade Shopping Center ramped up.
The traditional Car Show, sponsored this year by Criswell Auto, attracted a few dozen cars and lots of interested lookers, perhaps reimagining life when a '57 Chevy was "the" car, or trying out a session behind the wheel of a '57 Pink Thunderbird.
Close to 100 vendors set up booths to introduce themselves to the community at the business fair and there were rides and games on both sides of Falls Road, in addition to a petting zoo with animals from Squeals on Wheels – hence the llama in the parade.
Peter Rabbit was a costumed member of Friends of the Library Potomac, celebrating the new Peter Rabbit herb Garden. Recently planted at the library.
"It's great," Potomac resident Ann Mulla said. "We come with our grandchildren every year and we brought our children before they became parents."