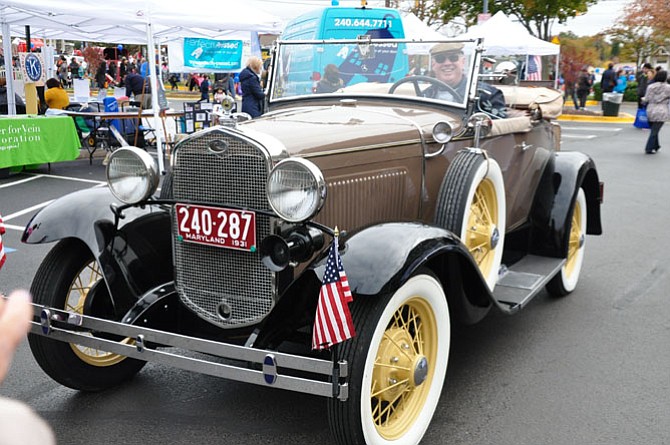 What's more fun than a parade, clowns and candy? Scurrying up a climbing wall? Sliding down inflatable slides? Riding a pony, petting an alpaca, or cuddling a pig? Listening to music and nibbling Potomac Pizza's pizza on a beautiful fall day? Checking out an exquisite 1957 T-Bird or a snazzy Impala from the 1960s? Oct. 22 is Potomac Day 2016 — and Potomac residents are already anticipating the excitement of the annual family day.
Everyone looks forward to the Grand Parade led by Potomac Chamber of Commerce honorees, spotting their favorite dentist dressed like the tooth fairy, cheering for their favorite businesses, political candidates and musical groups and applauding local Potomac leaders.
The day provides a chance to gather with friends and neighbors, to watch children whiz down giant pumped-up slides, rock to the music of Retrospect and Unique Dreams, and to learn about new community businesses. Local restaurants provide tasty lunch fare, the classic car show sports gleaming autos of yesteryear, and everyone has the opportunity to celebrate the community they live in.
The parade begins at 10 a.m. on Chapel Drive and River Road and travels along River Road to Falls Road where it turns and heads toward Great Falls.
The morning opens with the Star Spangled Banner sung by Potomac's own opera singer Chrissellene Petropoulos — dressed in her Halloween regalia. Then the parade starts inching up River Road toward the Village, giving children (and their moms and dads) the opportunity to scramble for candy, laugh at clown antics, cheer on equestriennes from the Capitol Polo Club, firefighters on their shiny red trucks, and tae kwon do performers. Every year, political candidates embrace the opportunity to meet and greet Potomac citizens. Since this year is an election year, the candidates will be out in full force, sharing their platforms and information right before the election.
The Potomac Chamber of Commerce selects three honorees. The Potomac Citizen of the Year is the Potomac Almanac Editor and Publisher Mary Kimm. The Potomac Youth of the Year is Arslon Humayun of the Landon School and the Business Person of the Year is Fred Goldman, Esq. They will be honored at Potomac Day and also at an awards dinner on Nov. 17.
Once the parade ends, there will be more activities. According to Jennifer Matheson, director of operations for the Potomac Chamber of Commerce, "We will have lots of children's rides as well as an expanded Vendor Fair this year. Some of the new vendors will be Peaceful Waters Reflexology, Attorney-Donald Knepper, Orange Theory Fitness, Eye Care for Animals,
and Lotsa LuLa Roe Clothing. There will be music and lots of great food. Potomac Day gets bigger and bigger each year with more people attending each year. The Classic Car Show is an exciting event each year which draws a lot of people. This year the classic car award categories will include the People's Choice, President's Award and the Fire Chief's Award."
Jill and John Phillips own Squeals on Wheels, a portable petting zoo in Potomac. Jill Phillips said, "Our family has been bringing animals to Potomac Day since 2002. We pulled a landscape trailer with a van. The trailer was stuffed with bales of hay, four alpacas and our five children who managed the herd of alpacas. Over the years we added goats and a tiny 24" tall full grown horse to the menagerie. Then we started our petting zoo after we realized how much joy our animals brought to the Potomac community."
Enjoy the day in Potomac Village on Oct. 22 from 10 a.m.-3 p.m.