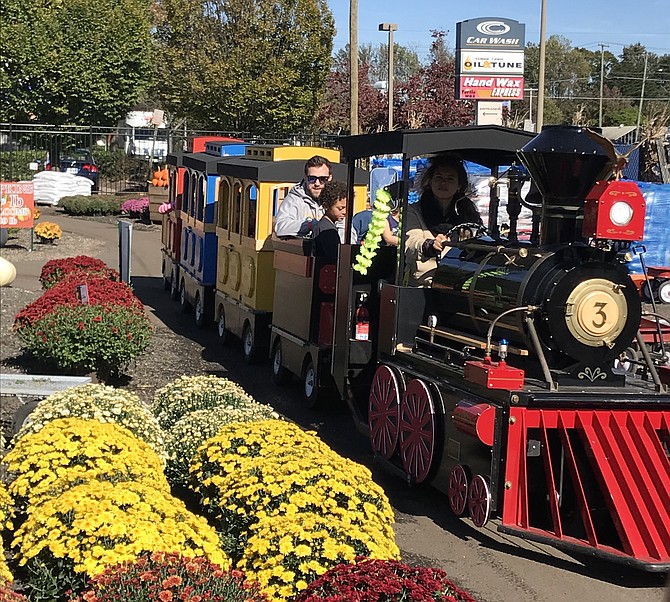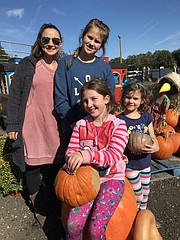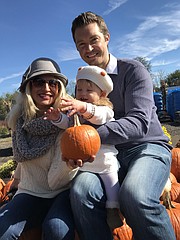 The legendary Reston Farm Market brings the magic of celebrating time-honored fall fun to families. With an eye toward community focus, owner Bonita Weinstein strives every day, but especially when all things pumpkins rule Reston, to offer opportunities for everyone.
"On the weekends there's balloon artists, face painting, and magic shows. The Reston Farm Market Express runs every day," said Weinstein.
On Monday, Oct. 22, Sarah and Mike Dunfee brought their daughter Savannah, 10 months, to the market. They wandered the aisles of pumpkins, taking photos of Savannah as she held and licked the pumpkins. "It's Savannah's first Halloween," explained Sarah.
Not only is the Reston Farm Market a welcoming environment for families but also for schools and camp groups. Winter Hartman, owner of Loudoun County Gymnastic Club was there with Emmie Bigden, 6, of Reston and her teammates. "We have a camp today... I wanted them to see the animals and fall festivities, enjoy the free apple cider and take a train ride," said Hartman.
Not to be confused with the Reston Farmers Market at Lake Anne operated by Fairfax County Park Authority, the Reston Farm Market is located at 10800 Baron Cameron Avenue, Reston, and one block from Rt. 7 Call 703-759-0000.