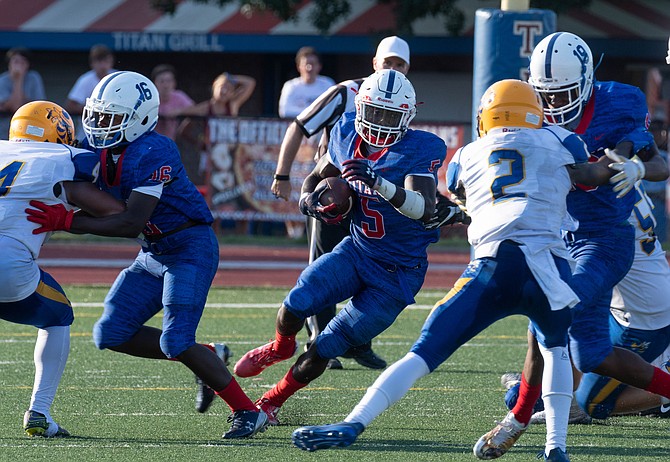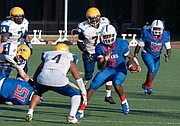 Shortly after putting on a historic performance during T.C. Williams' season opener, junior Anthony Eaton informed a reporter that he had yet to commit to a college program.
Standing close by, Eaton's head coach offered reassurance.
"It won't," Jimmy Longerbeam said, "be long."
Indeed, Eaton's effort on Friday gave the indication that for No. 5, ample college opportunities would be right around the corner.
Eaton produced 233 yards of total offense and scored six touchdowns, leading the T.C. Williams football team to a 65-32 home victory on Aug. 24.
Eaton's six touchdowns tied a single-game school record, according to Longerbeam.
"Nothing surprises me," Longerbeam said about Eaton. "He works hard. We've seen his ability all the time."
An Osbourn Park touchdown cut the T.C. Williams lead to 38-32 with 11:41 remaining in the game. But the Titans closed the contest with 27 unanswered points.
T.C. Williams showed off its playmaking ability throughout the game, producing points with offense, defense and special teams.
No player on the field was more dangerous than Eaton, who carried 10 times for 147 yards and five touchdowns and caught three passes for 86 yards and a score. His sixth touchdown, a 9-yard run, helped give the Titans a 52-32 lead with 7:48 remaining in the contest.
Eaton also scored on runs of 23, 1, 33 and 80 yards. With less than five minutes remaining in the opening quarter, a wide-open Eaton caught a quick pass from quarterback Jack Rossi and raced down the field for a 77-yard touchdown.
Eaton is listed at 6 feet and 185 pounds. Longerbeam said the talented ball carrier could build himself up to 215 or 220 pounds by the time he's in college.
"He's got great work ethic," Longerbeam said. "… He's a great kid and really good academically, and … he's just really, really explosive. … He can run and he's powerful. He's kind of the whole package."
Rossi, a senior, completed 9 of 15 passes for 141 yards, with one touchdown and one interception. Junior Ricardo Ross, who also saw time at quarterback, produced 50 yards and a touchdown on the ground.
Longerbeam said both could see time at quarterback moving forward.
"We figure both of them add a certain thing to the team," Longerbeam said. "Ricardo can run. I thought Jack made some nice throws. We may end up playing both of those guys — have packages for both of them — because it's just one more thing, defensively, that you have to prepare for."
Senior linebacker Lamont Williams returned an Osbourn Park fumble 98 yards for a touchdown in the second quarter.
Senior safety Tavarus Brown returned a kickoff 75 yards for a score, ran a punt back 50 yards to the Yellow Jacket 1-yard line, and intercepted a pass.
Junior receiver Robert Longerbeam scored the final touchdown of the game when he returned a punt 72 yards with 3:50 remaining in the fourth quarter. He also snagged an interception.
"It feels good," Eaton said about the victory. "[Hopefully] we can get better moving forward and blow more teams out."
The Titans did leave room for improvement. T.C. Williams turned the ball over six times against Osbourn Park and allowed multiple big plays on special teams.
Next up for the Titans is a road game against Gar-Field at 7 p.m. on Friday, Aug. 31. While T.C. Williams is a work in progress, the Titans know Eaton is a big-time playmaker in the backfield.
A playmaker with a bright future.
"[Eaton is] a young kid, he's getting better every day," Brown said. "I've seen him since he was 9 or 10. I love watching him play. He's a good kid."