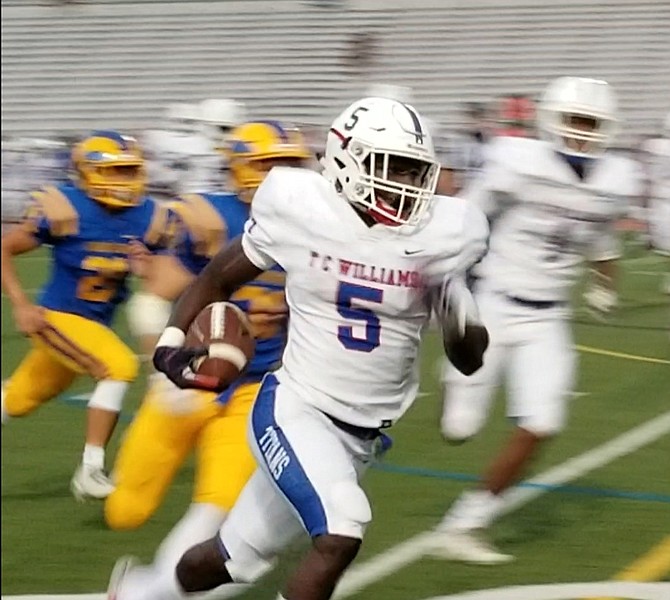 Anthony Eaton's talents were on display against Robinson on Sept. 13, when the T.C. Williams running back scored a pair of touchdowns on the ground and made multiple plays in the passing game.
But unlike the season opener, when Eaton found the end zone six times against Osbourn Park, the performance of No. 5 wasn't enough to carry the Titans to victory.
The Rams scored the final 31 points, shutting out T.C. Williams for the final 30-plus minutes during a 45-12 victory at Robinson Secondary School.
The Titans matched the Rams touchdown for touchdown during their first two drives and trailed 14-12 when Eaton battled his way into the end zone on a fourth-and-goal carry from the 3-yard line with 6:37 remaining in the second quarter. It was all Robinson from there, however, as the Rams took control with a physical ground game.
"[It was] a combination of [Robinson] doing a great job with their offensive scheme and, offensively, we had a turnover and failed to convert on a few 4th downs," TC head coach Jimmy Longerbeam wrote in an email with regards to why the Rams were able to pull away. "This gave them additional offensive possessions."
Trailing 7-0, the Titans came out throwing during their opening possession. TC attempted a pass on its first seven plays, with quarterback Jack Rossi completing his first five attempts for 58 yards.
Facing third and 10 from the Robinson 20-yard line, TC coaches called for an outside zone running play to the right. Eaton took the handoff and raced into the end zone.
"We did a good job blocking the edge and Anthony has good vision and above average speed," Longerbeam wrote. "He was able to outrun everybody to the end zone."
Trailing 14-6, TC opened its second possession with a 53-yard deep pass from Rossi to Eaton.
"Catching is something I enjoy and am constantly working to improve on," Eaton wrote in an email. "It makes me more of an all-around back."
Eaton, a 6-foot, 185-pound junior, finished with four receptions for 82 yards.
"He's really worked hard all summer to improve his ball-catching skills," Longerbeam wrote. "With his size and speed, he tends to be a match-up problem for linebackers."
After a 16-yard run by Eaton gave TC first and goal at the 10, the Titans continued to feed their standout running back. After three more Eaton carries totaled seven yards, TC faced fourth and goal at the 3. Eaton found the end zone with his fifth consecutive rushing attempt, cutting the Robinson lead to 14-12.
The Titans, however, would get no closer.
Robinson rushed for more than 350 yards and had five different players score at least one rushing touchdown.
"We got unfocused as a team," Eaton wrote, "and were not clicking the way we are capable of."
Rossi completed 14 of 27 passes for 160 yards.
"I think he had some good plays," Longerbeam wrote. "We just have to get better at every position. The thing about the QB is, they tend to get too much credit when we're doing well and too much criticism when things aren't going well offensively. In order for the offense to be real efficient, it takes all 11 players to work together to be successful."
The defeat dropped TC's record to 2-2, including a loss to Tuscarora the week before. The Titans will host the Patriot Pioneers at 1 p.m. on Saturday, Sept. 22.
"We've gone back to the basics this week," Longerbeam wrote. "Stressing fundamentals. We have to have ball security and hopefully create some turnovers that will give us extra possessions."