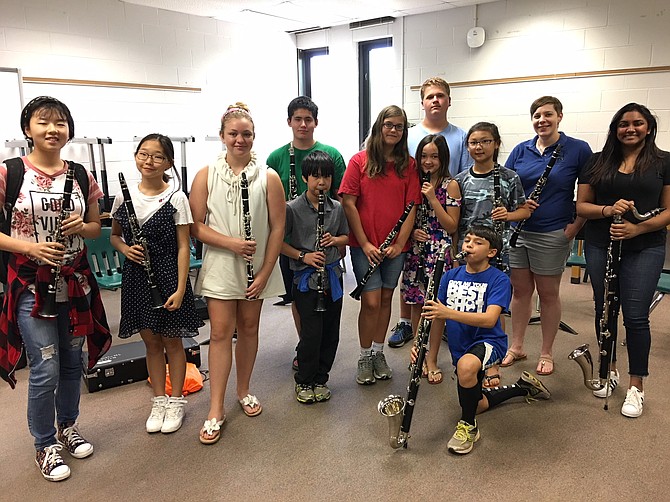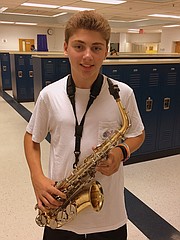 For some three weeks this summer, those walking through the halls of Franklin Middle School were greeted with the sounds of music. That's because, for its 33rd year, the school's Band and Orchestra Camp was in full swing.
It ran from June 20 through July 13, with 52 teachers furthering and enhancing the music education of 602 students. And their four hours of intense practice every day gave the students greater opportunities to play their instruments than they'd receive during the regular school year.
"For middle-schoolers and rising high-school students, it's equivalent to one year of school band or orchestra," said camp Director Lawrence Walker. "And for elementary students, it's equal to two years."
Each day, band students had two rehearsals, one sectional class – such as woodwinds, brass, percussion or strings – and one instrument class. Orchestra students had two daily ensemble rehearsals, sectional and instrument classes, plus music theory.
"Sectional classes work on the music that the band or orchestra director is teaching," said Walker. "Instrument classes focus on fundamentals like scales and tone quality and are like master classes of large-group, private lessons."
Walker founded the camp and has helmed it from the start. For 30 years – 28 of them as Franklin's band director – he taught music in FCPS. And when he retired in 2012, the school named its music wing after him.
As is usually the case, things went smoothly at camp this year. "With a camp this size, you'd think you might have discipline problems," said Walker. "But the kids want to be here."
Students were divided into beginning, cadet, concert and symphonic bands and orchestras, depending on their level of talent and expertise. In addition, there's also a jazz band. Teaching the classes were FCPS, Prince William and Loudoun County band and orchestra directors, private music teachers, plus retired military-band members.
Besides that, said Walker, "We bring in professional musicians to perform. It helps the teachers and kids see and identify wonderful-sounding groups, such as the White House Band, comprised of former military personnel who've played at the White House. Others include Bridging the Gap, violin and bass players who are active-duty Marines and perform at all the White House teas."
No surprise, he said, "I enjoy music education and working with students and musicians. And I have a passion for kids who never lose their purpose for being here and their respect for the camp – and that's because of the homes they come from, where their families are supportive of their interest in music."
"At camp, we have the opportunity to see their growth because their sectional teachers take the band or orchestra music they're working on and rip it apart to focus on areas needing attention," continued Walker. "I love leading this camp, and the educators here appreciate my skill managing people and running things. And the teachers in this community love it because they get advanced music students, right at the start of the school year."
Attendees included Westfield High freshman Katie Spinar and her sister Emily, a fifth-grader at Bull Run Elementary. "I've played violin for three years," said Katie. "I just like how it sounds. It's our first time at camp; our mom thought it would be good for us."
Glad she came, she said, "I'd recommend it to others because it's a good experience. I like playing in an orchestra and, in the summer, I don't usually get to do that."
Emily was a new bass player. "I thought it would be fun trying to play something bigger than the other instruments," she explained. "I liked practicing at camp and mainly learned how to do the correct bow holds."
Also a Bull Run fifth-grader, Sarah Chang played the cello, choosing it because of its size. "The cello is big and I'm kind of tall," she said. "It's not small like a violin, it's simpler to play and I get to sit down."
It was also her first time at camp. "It was my parents' idea, but I enjoyed it because I like the songs we play in rehearsals," said Sarah. "I'd rate this camp five stars because it's very educational and fun."
A trombone player, Mercer Middle sixth-grader Isaac Lee was a first-timer at camp. "The teachers are great, and I like the classes and songs," he said. "You also make friends, learn more notes and learn more about your instrument."
Joe Antonucci, band director at Whitman Middle, taught there for his first time. "It's been awesome," he said. "Coming in as also a part-time, elementary band director, it's crazy to see how much of a difference the consistency of this camp has on the kids' abilities. I generally see kids once a week; but here, it's for four hours a day."
So, he continued, "The growth you see here is exponentially faster. And the students get more satisfaction out of it because they get to so quickly see the fruits of their labors. It's been fun here, and I hope to come back – it's a pretty good gig."
Michelle Rupert, a 13-year FCPS elementary band director, agreed. "It's my second, consecutive year at this camp, but I taught here 17 years ago when I was pregnant with my son," she said. "He's now here assisting the other directors and playing with the jazz band and wants to be a director, too. And my middle son is here helping, as well."
At camp, said Rupert, elementary students get a month's worth of instruction every day. "So by the time they return to school, they're a year or two ahead of the other kids," she said. "Here, they get four hours of music a day; during the school year, it's four hours a month. So it's amazing to hear their daily improvement."
Furthermore, she said, "Here, in their master classes, they also get lessons on their specific instrument from a professional who plays that instrument. So they're getting the correct fundamentals to help them, going forward. That way, there's no having to fix things later on in class. They get exposed to different teachers and students from other schools and counties and will later see them at All-District band auditions. And that's neat because we're truly a team."
Liberty Middle eighth-grader Theodore Schroeder has played saxophone four years. "My grandfather and mom played it, so it's a family thing," he said. "It's fun to play, easy to learn and there are a lot of challenges."
He called his first year at camp "a fun experience – good for all ages and grades – with more challenging music than we get at school. I met a lot of people and the teachers are really nice. I'm hoping to eventually go into high school with more experience for marching band."
With a year of clarinet playing under her belt, Willow Springs Elementary sixth-grader Vivianne Kim loves performing musically because "It helps you express things without talking. It was my second year here, and they focus on each instrument and don't leave anyone behind if they're struggling."
She learned better tone quality and how to make new notes, and she also made several friends. "My favorite part was playing together as a whole band in rehearsals," she said. "The camp improves your skill while you're having fun with others."