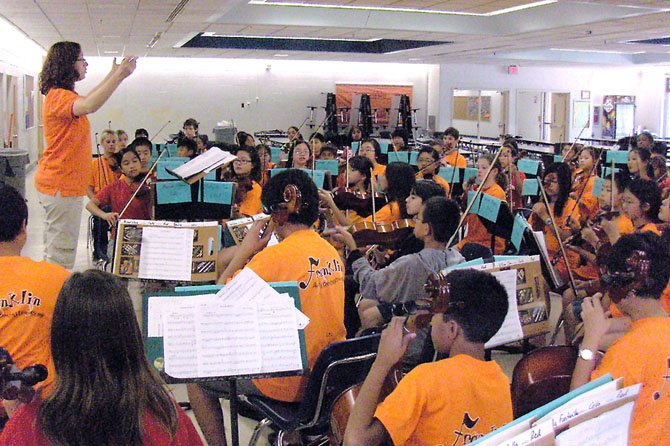 Take 710 students, 35 teachers and musical instruments of every size and shape and you get Franklin Middle School's Band and Orchestra Camp. This year's camp, the 27th annual, ran June 25-July 20; and over those four weeks, attendees received four hours a day of intensive instruction.
Rishabh Misra, a fifth-grader at Greenbriar West Elementary, was there for his second time. After seeing many of his older friends play the violin, he started playing it last summer and came to camp to learn it better.
"I like hearing how the bow can make a sound on the strings," he said. "At camp, the teachers are really nice and there's not as much homework. I'd recommend it to others because it's fun, you get a lunch break and you get to do music theory, too, not just playing."
Madelin Ward, a Franklin seventh-grader, chose the flute because of a relative who played it and discovered she liked it, too. "You get to create your own sound without a reed," she said. "And I can fit it in my backpack."


Photo Gallery
Students Make Music
Click Photo for Flash
AT CAMP FOR THE FIRST TIME, Madelin said, "I wanted to get better at my instrument. I learned how to transfer easier from a natural note to a flat and I've definitely improved on sight reading. I also had a lot of fun."
Classmate Matthew Ehlers plays tenor saxophone and was at camp for his third time. "I like it so much because the saxophone teacher in my instrumental class, [Stephanie Longaria], is really good and helped me learn my scales," he explained. "I'd definitely recommend the camp to people wanting to improve. It doesn't take up all your day and all the teachers are great."
Stephen Matthie is the orchestra director at Rocky Run Middle and has taught at the camp for five years now. This year, he directed the most advanced orchestra.
"I love the kids and we have a lot of fun," he said. "It's summer camp, so they want to be here and play their instruments. Otherwise, they might not have played at all [until school resumes]. If you don't play for months, you lose it, so this keeps them fresh and they don't have to play catch-up later."
Oak Hill fifth-grader and violinist Brandon Nguyen was a second-year camper and said he learned "a lot of stuff. This used to be my brother's violin so it's pretty special and I put karate ribbons on it when I learn new things. This year, I learned how to do slurs and shifting."
"For elementary-age students, this camp is equivalent to what they'd get in one or two years of school," said Camp Director Lawrence Walker. "They only get 17 days of music in a school year vs. 17 classes during camp, but four hours/day with three different teachers."
He said middle and high school kids obtain an understanding of the chromatic scale—every note their instruments can possibly play, plus a better command of their instruments. Some also come to camp to learn new ones.
Every day, each student had an instrument master class, a sectional class and four full band or orchestra rehearsals. "In the instrument classes, kids only work on technique, tone quality and articulation for their particular instrument," explained Walker. "That's where their skills come from so they can play with feeling and interpretation. It's like a private lesson on a larger scale."
In woodwinds, brass and percussion sectionals, teachers worked only on the music the students would play in their larger band or orchestra at camp. Students fixed details they needed to work on and solved any technical problems they had.
Then they put it all together to perform in either advanced, intermediate, cadet or beginning band or orchestra. They auditioned, the first day of camp, and were placed according to their skill level.


NEW FRANKLIN BAND DIRECTOR, Kurt Holscher, replacing Walker who just retired after 28 years there, directed the camp's concert band. "We've got great kids who seem enthusiastic and work really hard," he said. "And this keeps them playing over the summer and makes our job easier in the fall. We won't have to remind them how to play. They get a lot of extra instruction so it's good experience for them."
In his first year at camp, Franklin eighth-grader Mitchell Holloway played percussion in the symphonic band and had a great time. "I heard about it and it sounded interesting," he said. "I learned new songs and made new friends."
Clarinetist Katie Hoang just graduated from Franklin and will attend Oakton High this fall. She selected the clarinet because "I thought it was challenging, most of my cousins play it and I didn't enjoy playing strings. This camp improves my skill level to be in Oakton's marching band. It's fun playing different types of music at different skill levels at camp."
Franklin Glen's Michele Anderson picked up her son Bennett after class. After graduating from Lees Corner Elementary, he'll attend Rachel Carson Middle this fall. "He wanted to come because he changed instruments from trombone in fifth grade to drum in sixth and wanted to improve before middle school," explained Anderson. "And I believe he has."
"There are some great instructors here who commit their time to helping these students," she continued. "It's a great opportunity and the kids also get to be around new people playing the same instrument they do."
"It's fun," added Bennett. "I learned a bunch of different techniques and would recommend this camp to others because you get more one-on-one instruction."
Pleased, Walker said it was another successful camp. "I started it when we had just 80 kids," he said. "I never knew it would grow to be this kind of opportunity for students." And although he's retired from FCPS, he'll continue as the camp's director.
"I live right here in the community and I'm the founder," he said. "I get to see kids give their best, at different levels—from the polished musician trying to improve and meet their teachers' goal, to the struggling beginner who doesn't accept failure because of this goal and the reinforcement from their teacher and the other kids."
Besides, added Walker, "I enjoy interacting with some of the finest educators in the country—from military bands, public schools and the private sector, plus outstanding college students. And I believe, if you conquer the attitude of any child, you conquer the aptitude. If you and the person teaching you believe you can do something, then you can do it."