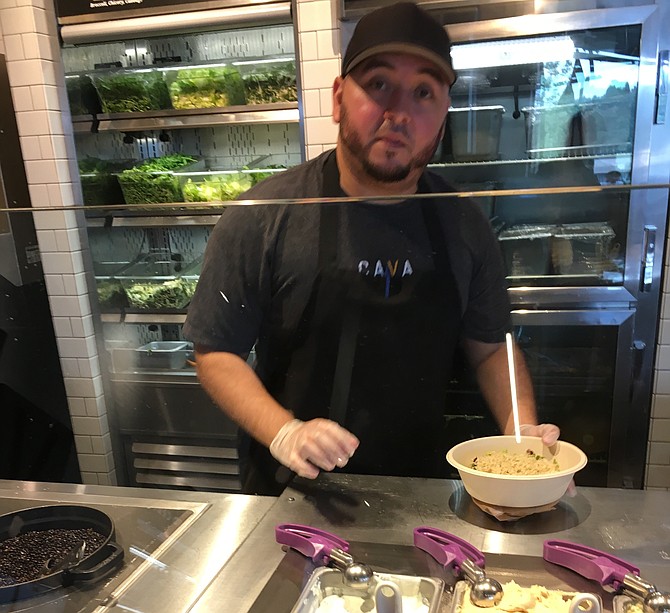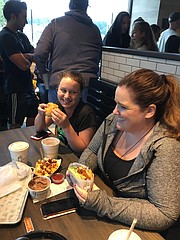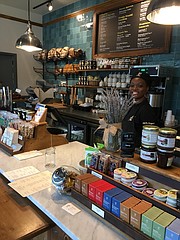 Hungry Potomac residents have three new places to try for breakfast, lunch or dinner now that the restaurants are open and ready to serve their specialties.
Nestled in a new section of Cabin John Village, the former Cabin John Shopping Center and Mall at the corner of Seven Locks Road and Tuckerman Lane, are Shake Shack, Le Pain Quotidien, and CAVA.
Another restaurant, Sisters Thai, will join the threesome some time before the end of the year, according to Katie Bucklew, vice president of development for Edens, the real estate developer which bought the 25-plus acre property in December 2016.
The Edens group changed the name of the shopping center and mall to reflect a new vision for the space, Bucklew said.
"We know that Cabin John Village is a special place for this community, and has been for a long time," Bucklew said in a press release last year. "We wanted to honor that long-standing history by bringing in complementary dining options with a contemporary aesthetic for the neighbors and partners who live and work here."
Shake Shack, which first opened in New York City as a kiosk in Madison Square park, is a real burger joint, serving burgers, chicken hot dogs, fries and shakes, of course.
The store in Cabin John Village is the first of the chain's Montgomery County outlets.
"It's been great, the community is fantastic," manager Jon Parsonnet said.
The restaurant was full of customers waiting to order, then waiting for pick up on a recent rainy Saturday
Though the restaurant seemed very crowded, diner Ariana Kelly, of Bethesda, said it only took 15 minutes from order to eats.
"I like it a lot," Kelly's daughter Maeve, 14, said. "I think it's one of the better hamburger joints."
Her brother Leo, 11, agreed.
"I think it's yummy," he said.
And they all agreed the fries were great.
As part of their commitment to the community, each Shake Shack teams with a local charity. The Cabin John store selected The Tree House, a child advocacy Center in Montgomery County dedicated to "reducing trauma and promoting healing for child victims of physical abuse, sexual abuse and neglect," according to the Tree house website.
This month Shake Shack Cabin John will donate five percent of its sale of a special "concrete" — a frozen custard and pie treat spun together, Parsonnet said.
Hours for Shake Shack are 11 a.m. to 10 p.m. Sunday through Thursday and 11 a.m. to 11 p.m. on Fridays and Saturdays.
Le Pain Quotidien offers a quieter dining experience than Shake Shack, or CAVA, its next-door neighbor.
It provides, "simple, elegant boulangerie fare made with healthy, organic ingredients, [where patrons] dine among communal tables that foster a sense of community," according to a press release.
LPQ offers full-service breakfast, lunch and dinner options.
Translated "The Daily Bakery," Le Pain Quotidien is designed to replicate a Belgian Bakery, manager Ayton Horn said.
The restaurant opened on Labor Day, Sept. 3 and has done better than expected, Horn said.
The restaurant specializes in tartines, he said, open-faced sandwiches.
"We cater it to look like art," he said. "The presentation [matters]."
Store hours are 7 a.m. to 8 p.m. Monday through Friday and 8 a.m. to 8 p.m. Saturday and Sunday.
CAVA, a Maryland original, serves traditional Greek Mediterranean cooking in a fast-casual atmosphere. Diners select the makings of their bowls or wraps cafeteria-style, choosing from a large selection of grains, vegetables, meats and sauces.
"Here you build your own order," manager Abel Vena said.
The menu changes seasonally, he said as do the many drink selections.
This week lemonade, strawberry citrus, watermelon mint, peach green tea, Jasmine tea and Black tea were available, arranged like a work of art in large urns along the front counter.
"Soon we will add apple cinnamon and blueberry lavender," Vena said.
He said they have been very busy since opening Aug. 8.
He attributes the restaurant's popularity to doing "something good."
"We are doing something good," he said. "Here we have great service, great food and clean restaurants, that's what people focus on."
CAVA is open daily from 10:45 a.m.to 10 p.m.