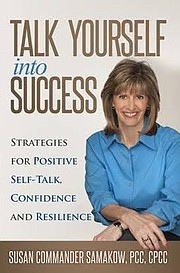 Certified Life and Business coach Susan Commander Samakow, PCC, CPCC has experienced the satisfaction of helping clients transition through difficult situations and seeing them make confident decisions and growth in their lives.
Through her coaching, clients learn to apply her specific formula for success and consequently build more resilience, become more positive and increase their mindfulness.
In her new book "Talk Yourself into Success," Samakow uses personal stories as well as neuroscience in lay terms and practical strategies to drive home her formula for making changes and living a more fulfilled life. She will be launching this practical self-help guide on Thursday, Sept. 27 at 7 p.m. at Barnes and Noble, 12089 Rockville Pike, Rockville.
Samakow has been an entrepreneur for 30 years. She provides individual, team and group coaching, corporate workshops, keynote addresses, seminars and leadership training. She formerly served as the president of the DC Chapter of the International Coach Federation and has appeared on WUSA9 TV, WNBC TV and in local newspapers and radio programs. Additionally, she writes a bi-weekly column for a digital forum (Comm Digi News.) The Potomac resident is also a wife and mother of two daughters. Her passion is teaching others "how to make impactful differences in their lives by implementing her effective strategies and easy-to-use techniques for positive self-talk, confidence and resilience."
Samakow said, "I work with people going through all kinds of major transitions in their lives — separation, divorce, changing jobs, moving, retiring, time management, relationship issues and more. Many of my clients suggested that I put my coaching strategies into a book. Eight months ago I just got an urge to write it."
In writing her book, she learned a lot more about the latest brain research and how she can help when people are stressed and go into a "fight or flight" mode.
"In the book I lay out how your thinking style affects how you react to difficult situations. In other words, I help my clients to think about difficulty as a stepping stone, rather than a stumbling block," she said. "A person with low resilience will stay down and use it as an excuse not to act; however, a person who has resilience will create a new pattern and thrive. I help people create a new pattern. No matter your age, sex or income, it's what you are saying to yourself that really matters. If you self-impose limits, that's where you will stay. It's a formula of positive self-talk plus resilience will equal a successful life."
She wrote, "Our self-talk began at an early age, literally as soon as we began thinking. As children we are greatly influenced by the adults in our lives, parent, teachers and religious figures. And although some of the things that were said to us were not meant to be criticisms, they might have negatively impacted us. They are things like … you are not good enough, fast enough, smart enough, thin enough. Over time individuals internalized these comments and take them to mean 'I'm not enough.' As kids we took on what was said to us as if it were fact or the only truth or set in stone. Without realizing it, many of us took this mindset into adulthood.
"We have one hundred positive thoughts and one negative thought and guess what? We focus on the one negative. We play it over and over like a tape. I say, change the tape! Stop reinforcing the negative. How? By rewiring the brain, by creating new neural pathways."
The book continues with strategies to consider options, replace and reframe negative self-talk with positive self-talk, build more resilience, create a vision and to ultimately "lead the life you want to lead."
A review by Greg Wheaton, USPTA Professional, said, "Reading 'Talk Yourself into Success' opened my eyes to the possibility of changing old ingrained habits. With Susan's tools and guidelines you can break negative cycles and lead a more productive and healthy life."
Samakow's book is available at Amazon.com for $14.95 as both a paperback or a Kindle version. It will also be available for purchase and signing at Barnes and Noble on Thursday, Sept. 27.
For more information about Samakow's Life and Business Coaching services, go to www.selftalkcoach.com, call her at 301-706-7226 or email her at susan@selftalkcoach.com.