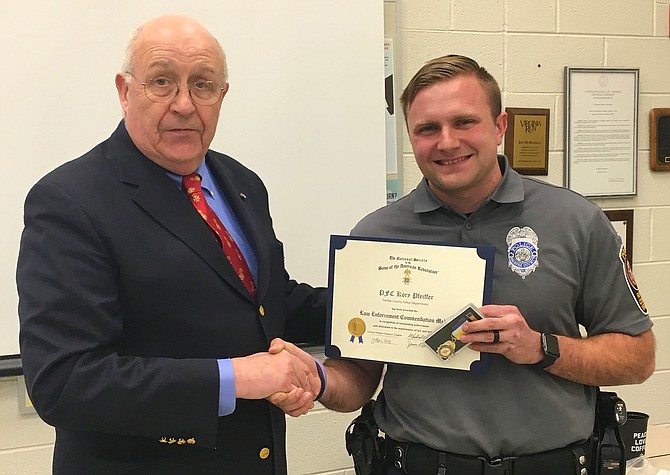 PFC Kory Pfeiffer, an officer with the Sully District Police Station, has been honored with an award from the Sons of the American Revolution (SAR). He received it during a recent meeting of the station's Citizens Advisory Committee.
William Collier, from the Colonel William Grayson Chapter of the Sons of the American Revolution, presented him with the SAR Law Enforcement Commendation Medal and certificate for those who have served with distinction and devotion in the field of law enforcement.

Pfeiffer's citation read as follows: "Private First Class Kory Pfeiffer, Fairfax County Police Department, has served with distinction for the past three years. His professional demeanor, technical and tactical knowledge is an example for all to follow. As a member of the Sully District Neighborhood Patrol Unit, his performance sets the example for others to emulate.
"PFC Pfeiffer led the district in criminal arrests with 184, which is twice the number of arrests made by the officer with the second highest number of arrests. PFC Pfeiffer also leads the district in felony arrests. Private First Class Kory Pfeiffer's continuous performance of duty is a great credit to himself, the Fairfax County Police Department and the entire law enforcement profession."