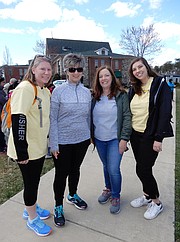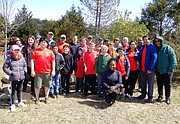 The calendar said spring, but Sunday afternoon's strong and chilly wind made it feel like winter. Yet that didn't daunt the 100 or so people participating in the first-ever CROP Hunger Walk in Centreville.
The March 31 event benefited Church World Service hunger-relief work around the world and Western Fairfax Christian Ministries' (WFCM) food pantry locally. Each walker donated $10 or more, and others sponsored participating individuals and teams online with their own contributions. The total raised was more than $3,800.
When CROP began in 1947, its initials were an acronym for the Christian Rural Overseas Program. Its mission then was to help Midwest farm families share their grain with hungry neighbors in post-World War II Europe and Asia. And today, CROP Hunger Walks still ensure that more people worldwide have access to nutritious and sustainable food.
Sunday's walk started at Centreville Presbyterian Church and traveled through the Virginia Run neighborhood. It included both paved trails and sidewalks, and participants could either do a 3K (1.86 mile) or 3 miles. Organizers were WFCM, St. Andrew Lutheran Church, Wellspring United Church of Christ and Centreville Presbyterian.
Deejay Myra Flemister provided pre-walk music while people registered. And one of the sponsors, the Chantilly Wegmans, donated mandarin oranges, bananas, fruit-and-grain bars and water for refreshments when the walkers returned. Other sponsors included Smiles Orthodontics of Centreville and G&C Automotive of Chantilly.

SUPERVISOR Kathy Smith (D-Sully) cut the ribbon to start the 2 p.m. walk. But first, new WFCM Executive Director Harmonie Taddeo thanked everyone for their support, and Smith explained the event's importance. "Food insecurity is described as 'the limited or uncertain availability of nutritionally adequate and safe foods, or the [danger of not being able to acquire them] in socially acceptable ways,'" she said. And in this area, the problem is real.
"Despite being one of the wealthiest counties in the nation, Fairfax County has the highest number of food-insecure individuals – 67,190 of its 1.13 million residents, or 6.1 percent – in the Commonwealth of Virginia," said Smith "Over 44,000 residents receive SNAP [Supplemental Nutrition Assistance Program], and over 25 percent of FCPS students receive free or reduced-price meals."
"Having access to adequate and sufficient food is a basic human right," she told the crowd. "And I thank you for coming out today to help raise funds to help fight food insecurity here in the Sully District and around the world."
Many of the participants came as part of a group, including Mary Ellen Moss, who was there with about 10 others from St. Andrew Lutheran Church. "Our pastor, Tom Montgomery, and I were part of the planning team that organized this event," she said. "We wanted a CROP Walk on this side of the county. And a lot of the churches are involved with WFCM and Church World Service, so anything that makes a stronger connection with them is a good thing. And a cool thing about CROP Walk is that, besides raising money to fight hunger globally, it helps local organizations, as well."
THE LARGEST CONTINGENT was a group of more than two dozen Scouts, parents and leaders from Boy Scout Troop 17, which meets at Centreville Fire Station 17. Parent Brij Tripathi, of Sully Station II, said he was happy to participate since "it's a local event and benefits [people in this] community."
His wife, Abhi, was there supporting the troop, but also had another reason. "I'm a teacher at Lanier Middle School in Fairfax," she said. "And if I'm doing this, I can be a good role model for my students to promote this cause. Not everybody's privileged the way we are, so this is the least we can do."
Anne-Terese Horning, of Compton Village, walked with Troop 17, too, "My son just transitioned from Cub Scouts to Boy Scouts, so this is our first activity with his new troop," she explained. "So it's a good way to get to know the other boys in the troop, and it's for a good cause."
Also there with Troop 17 was Missy Sheldrake of North Hart Run. "It's a sense of community," she said. "And I wanted to do something to give back."
Joe Arevalo, the troop's community service coordinator, noted that, during the annual Scouting for Food drive in November, the food collected by the Scouts goes to WFCM's food pantry. So, he said, "We try to be involved in their activities as much as possible."
Besides, he added, "This is a great opportunity for the Scouts to be helpful in their local community. This event embodies the Boy Scout oath – helping people at all times. And the walk itself, keeps their bodies physically fit."
Participating as well were a dozen members of Southview Community Church in Reston, which is one of the WFCM member churches. "Any way we can possibly give back is important to us," said Christina Hamilton, Southview's community services coordinator. "If one family suffers, we all suffer. And we're one as a group, so we look out for each other."