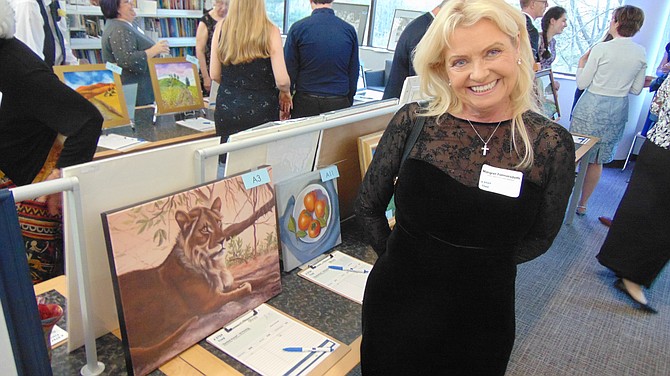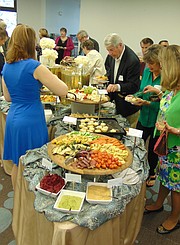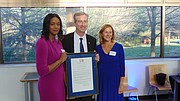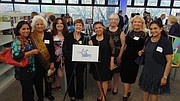 About 250 library VIPs and supporters attended the 25th Anniversary Jubilee, a fundraiser for the Fairfax Library Foundation called "A Step Back in Time" on Saturday, April 6, 2019, at the newly renovated Tysons-Pimmit Regional Library in Falls Church.
According to Lisa Bryant, Executive Director, Fairfax Library Foundation: "The Jubilee helps raise funds for the Fairfax County Public Library. It goes towards the early literacy program, Ready to Read. And in that we ensure that 1,000 kids or more receive picture books and increase their reading abilities. We also support scholarships for the community and our staff, community engagement and the increase of our library collection."
Added Patricia Reed, Board Chair, Fairfax Library Foundation: "It's so exciting to be here to celebrate the Foundation's 25th anniversary. It's a wonderful opportunity to bring supporters of libraries together and celebrate the library and all it can do for the community."
There were greetings from local politicians including Del. David Bulova (D-37) who presented a proclamation honoring the Fairfax Library Foundation on its 25 years; Supervisor John Foust (D-Dranesville); Cathy Hudgins (D-Hunter Mill); as well as library executives Darrin Ewing, Dranesville District, Library Board of Trustees; Janelle Blanchard, President, Tysons Library Friends; and Jessica Hudson, Director Fairfax County Public Library.
The evening also included a huge silent auction, including jewelry and art work from Nancy Jung's art students, a DJ, a photo booth, wine and catering by Purple Onion.
Hudson added: "The Library Foundation's 25th annual celebration, the Jubilee, has been a really wonderful event. We've had more people in attendance than we ever have had before; great auction items, a wonderful caterer and all in support of our library."
Signature Patrons who donated $25,000 included The Friends of the Burke Centre Library; Friends of Pohick Regional Library; and Tysons Library Friends. Publisher Patrons who donated $10,000 included The Friends of Oakton Library; and Editor Patrons who donated $5,000 included the Friends of Richard Byrd Library; The Friends of the City of Fairfax Regional Library; and Yolanda and Robert Atkins.