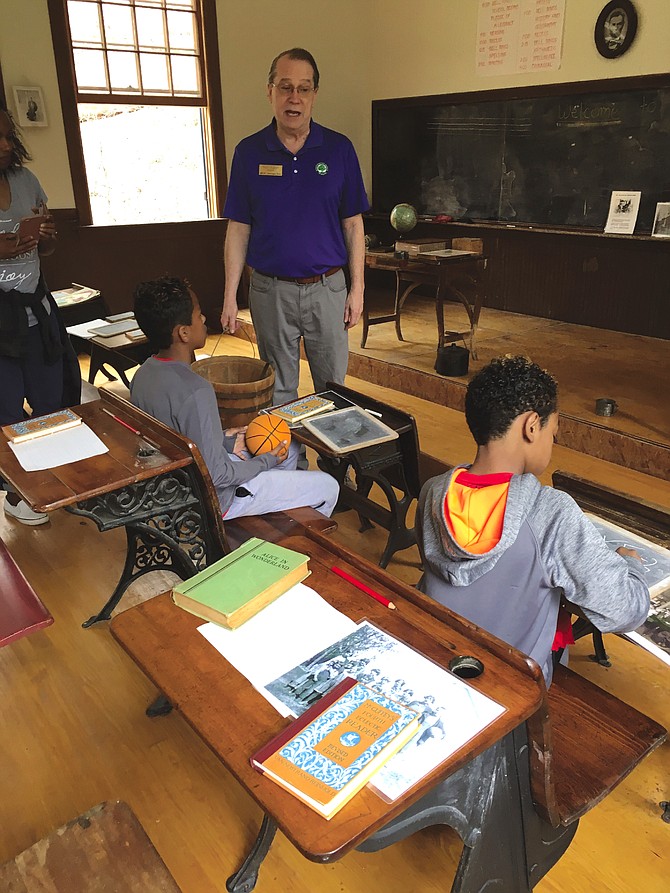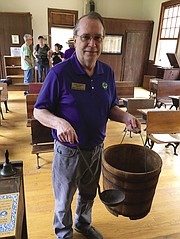 Sunday is not usually a school day, but many "students" of all ages visited the Kingsley School House in Clarksburg on Sunday, learning about education that took place in Montgomery County's one room schoolhouses more than a century ago.
Heading the class was Potomac resident Ralph Buglass.
Buglass has opened the Kingsley School the first Sunday of every month, April through October, for the last six years.
"It was very basic education, the three R's: reading, writing and arithmetic," he said.

Visitors arrived throughout the afternoon, wandering around the school, looking at exhibits and listening to the history of the schoolhouse and history of public education in the County.
"Public education started in Maryland roughly at the end of the Civil War," Buglass said. "In November 1864, the state constitution called for public education."
By 1913 there were roughly 100 schools in Montgomery County, mostly one or two room schools, located about five miles apart. Students walked to school, he said.
The Kingsley School operated from 1893 to 1935.
"When the state constitution was approved, it abolished slavery, but there were no schools for black students until 1872," Buglass said. "They were segregated with separate buildings, teachers and budgets."
Jim Heintze, of Clarksburg, another volunteer at Kingsley, welcomed visitors, pointed out the 48-star flag, the old record player and the wood stove. He also answered questions.
Heintze said he has worked at Kingsley Schoolhouse for three years.
A retired librarian from American University, he used his research skills to compile a short history of each of the 15 women who taught at the school before it closed.
"The first teacher was a man, Willis Rhodes," he said.
"His students were the first Rhodes Scholars," Buglass quipped.
Dawn Rosario brought her sons, Brandon, 9, and Taylor, 7, to walk in the park and see the school house.
The boys were engaged by Buglass, writing on the blackboard, looking at the old McGuffey Readers, and of course, pulling the rope to ring the school bell.
"I love it," Dawn Rosario said. "[The boys] are so used to everything modern and everything convenient. This gives them an idea of what it was like learning years ago."
For his work renovating and furnishing Kingsley Schoolhouse, Buglass received the Agency Volunteer Award from the Maryland Recreation and Parks Association and was one of three people nationwide to receive the 2014 Country Schools Association of America Service Award.
Kingsley Schoolhouse is located on its original site, now a part of Little Bennett Regional Park, 24472 Clarksburg Road, Clarksburg. Parking is in a lot just off Clarksburg Road and the schoolhouse is located about a quarter of a mile down a dirt hiking path. It's a beautiful walk, much of it along a running stream. Open house hours are 1-4 p.m. Entrance is free.