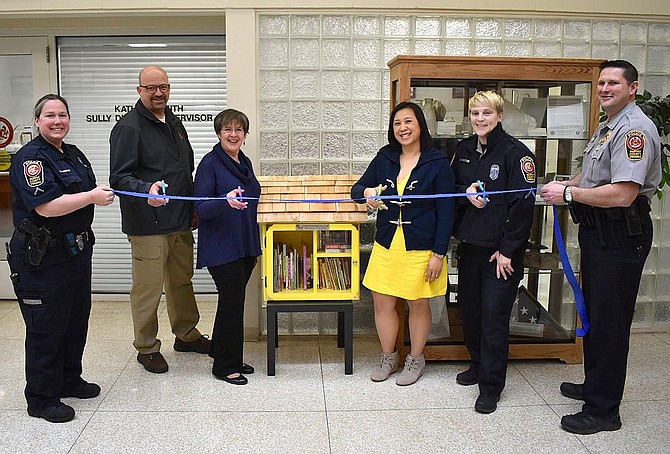 A Little Free Library is now available in the Sully District Governmental Center at 4900 Stonecroft Blvd. in Chantilly. It opened March 18 in the lobby there and offers free books for people of all ages.
People may take a book and/or leave a book for others, and the reading material is free to all members of the community to take home and enjoy for as long as they like. There are no deadlines, no overdue notices and no late fees.
The idea for the Little Free Library – which has become popular throughout the country – came from local resident Southita Brower. And since the Sully District Police Station is inside the governmental center, she contacted PFC Meg Hawkins, the station's Community Outreach Officer, about starting one there,
Hawkins then posed the suggestion to the Station Commander, Capt. Dean Lay, and Assistant Station Commander, Lt. Todd Billeb, plus Supervisor Kathy Smith (D-Sully), and they all gave it an enthusiastic two thumbs up.
Following their approvals, Hawkins then reached out to retired police MPO Denny Vorbau, who owns his own company, Knock On Wood, and does woodworking. And he was the one who handmade the library for the station's lobby.
In addition, MPO Sherry O'Brien combined with her daughter's Daisy troop, community members and officers from the Sully District Station to collect books to put into the library. Another community nonprofit, Making Everything Good, sponsored the library's charter, which is now on the world map at https://littlefreelibrary.org/.
The library is open 365 days a week and 24 hours a day and offers books for children, teens and adults. And in keeping with its mission, the Little Free Library's motto is "Take a Book, Share a Book."