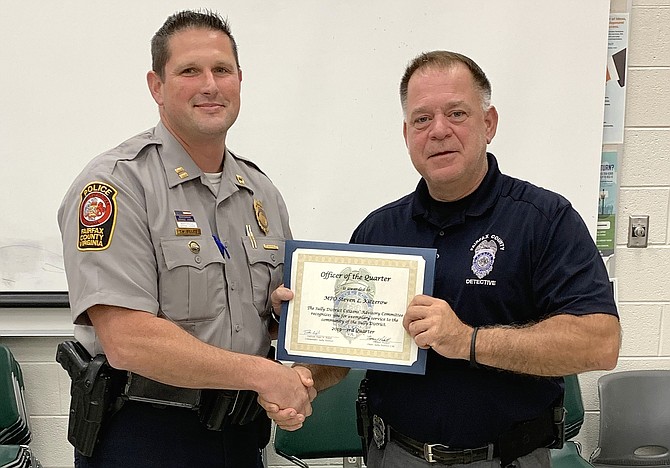 When it comes to police work, MPO Steven L. Kitzerow is one of the best officers in his field. Not only has he been named the Sully District Police Station's Officer of the Quarter, but he's just received the 2019 Crime Solvers Pinnacle Award, as well.
PFC Meg Hawkins, the station's community outreach officer, said Crime Solvers recognized him for his "outstanding work and commitment to criminal investigations. His dedication to our district is greatly appreciated by all."
Earlier, Kitzerow was also chosen as his police station's Officer of the Quarter for the third quarter of 2019. And as such, he was honored at a recent meeting of that station's Citizens Advisory Committee.
Nominating him was Lt. Joe Ankers, who said Kitzerow has more than 36 years' experience in law enforcement. Over the course of his career, he's been assigned to several different positions and is currently a detective in the Criminal Investigations Section. Ankers then presented some examples of Kitzerow's stellar police work.
THIS PAST FEBRUARY, a manager from Wegmans grocery store contacted the Fairfax County Police Department regarding suspicious activity in which a woman was obtaining gift cards in a manner they believed might be fraudulent. Kitzerow volunteered to investigate the matter and soon discovered that she had indeed committed fraud by obtaining gift cards with stolen numbers.
"Further investigation revealed that the woman may have committed more fraud in multiple ways for several years without being detected," wrote Ankers. "Although Kitzerow had enough probable cause to obtain an arrest warrant for the original complaint, he decided to further investigate the suspect's pattern of conduct in other possible financial scams.
"His thorough investigation into the suspect's actions led to numerous search warrants and the identification of many other victims," continued Ankers. "Kitzerow not only recovered evidence supporting several financial crimes, but also uncovered an organized financial-crime system."
The detective then developed three additional suspects that led to three more search warrants in multiple jurisdictions. And with the evidence collected, Kitzerow was able to obtain several warrants for all four suspects. Altogether, a total of 37 warrants were issued for the four people. This complex investigation lasted several months, involved several other law-enforcement agencies and, wrote Ankers, "will culminate in prosecution at the federal level."
THEN IN MAY, Kitzerow started investigating a series of larcenies from vehicles that were also related to cars being stolen. During this investigation, he quickly determined the suspects had victimized many people in multiple jurisdictions since the beginning of the year.
"With his investigative skills and determination, the detective was able to identify the perpetrators," wrote Ankers. "His strong work ethic was on display for all to see when he went out and personally processed vehicles for evidence, one morning, when a dozen vehicles in a neighborhood were entered the night before. Due to Kitzerow's diligence, most of the property stolen was recovered and charges were placed against the ones responsible. Larceny from vehicle cases in the Sully District have dropped drastically as a result and, in large part, to his efforts."
Furthermore, wrote Ankers, "He has always performed at a high level throughout his career, and this was no different. The cases in this investigation were complex, taxing and needed a detective with the tenacity for which Kitzerow is known.
"He is an excellent role model who supports the other detectives and officers in the station. His ability to communicate with the community and his knowledge are invaluable to the department. He continuously goes above and beyond to bring justice for the victims of crimes, which is the reason he has been chosen as Sully Station's Officer of the Quarter for the third quarter of 2019."