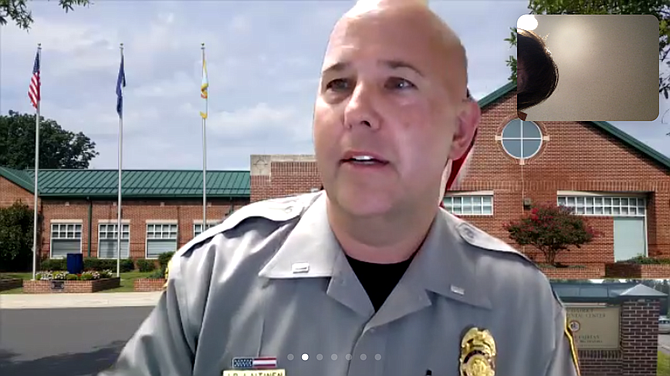 Still holding the meetings of the Sully District Police Station's Citizens Advisory Committee (CAC) online, due to the pandemic, three of the officers recently updated the community about the latest trends in local crimes.
Crime Prevention Officer, MPO Sabrina Ruck, said vehicle tamperings and larcenies from vehicles are continuing. So, she advised residents, "Before you go to bed at night, lock your car and be sure no valuables are left inside."
She said criminals "will go through a neighborhood and try door handles to see which vehicles are open. And they've stolen everything from pocket change to a $3,000 set of golf clubs. Also, lock up your bicycles and write down their serial numbers so you'll have them, just in case [they're stolen]."
SCAMS are also still prevalent, virus or not. "A person calls a grandparent pretending to be a grandchild who cries and says, 'I've been in an accident and need money now,'" said Ruck. "But that's a scam, as is anyone asking for your money urgently – for example, 'We're going to cut off your utilities at 5 p.m. if you don't pay your bill now.' Stop, think and call us before doing anything."
Community Outreach Officer, PFC Meg Hawkins, then expressed the station's gratitude to everyone in the community who's reached out to show their support of their local police officers. "Thank you all for your continued support – the lunches, dinners, messages, emails and letters – of our Sully District officers," she said. "It really means a lot and the officers truly appreciate it."
Next, Lt. Josh Laitinen, the station's assistant commander, noted that all the Black Lives Matter protests in Fairfax County have been peaceful. And he echoed Hawkins's words, saying, "We've gotten an incredible amount of support from the community, and we cannot thank you enough."
He said body-worn cameras throughout the entire county Police Department are being implemented and "We hope to have it done by this fall." He said it also helps the police when residents are involved with their communities, homeowners' associations and Neighborhood Watches. "You're our eyes and ears," said Laitinen. "And if there are some issues of concern, call us."
He, too, noted the many thefts from vehicles in the Sully District. "There's especially been an uptick in them in the Union Mill Road and Compton Road areas, mainly between 1-5 a.m.," he said. "Often, they're done by kids in the neighborhood."
Making things easier for these thieves, said Laitinen, is the fact that, "Often, keys are left in the vehicle. So don't leave your car keys anywhere near your vehicle." In addition, he said, "With everyone being cooped up at home, sadly, there's been an increase in domestic-violence incidents. But I don't have any data handy."
Hawkins said the station is still accepting items at the station for families in need via the Help from the Heart community drive. Spearheading it is the county organization, Communities of Trust, collecting items for local food pantries to distribute to those needing them.
ONLY NEW THINGS are accepted; place them into plastic grocery bags and drop them off, 24/7, into the collection bin at the Sully District Station, 4900 Stonecroft Blvd. in Chantilly. Needed are: Toothpaste, toothbrushes, deodorant, lotions, diapers, baby wipes, soap, shampoo, conditioner, feminine hygiene products, adult incontinence underwear, laundry and dish detergent, household cleaners, paper towels and toilet paper, as well as face masks for children, toddlers and adults.
In normal times, the second Tuesday in August is celebrated throughout the U.S. as National Night Out, when neighbors and first responders gather together in their communities to get to know each other in a relaxed setting. But this year, because of COVID-19, the event has been moved to Oct. 6. In addition, the Sully District CAC will take a break during August but will resume its monthly meetings in September.
More like this story