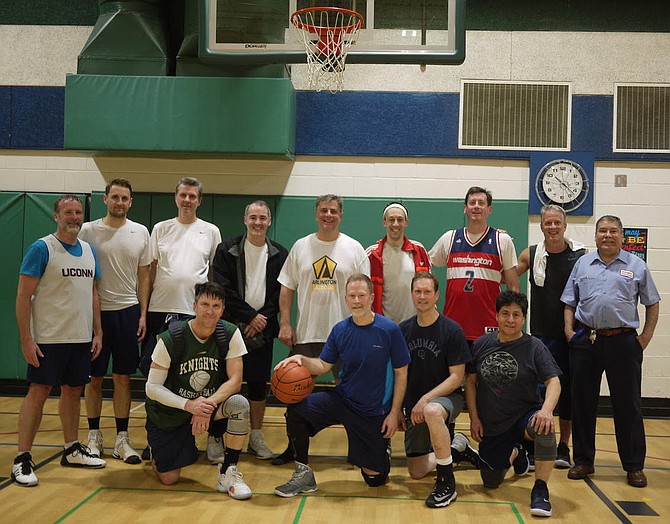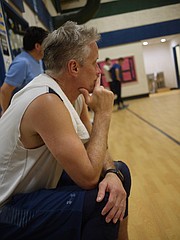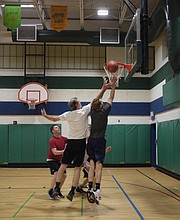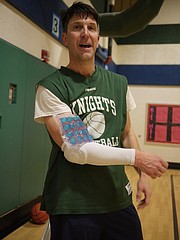 It was "March Madness" and the tension was high-wire taut. The squeaking of the basketball high tops across the gym floor reached fever pitch as the men rushed down the court to keep Andrew, who was particularly hot tonight, from scoring. But score he did, and the players clapped in admiration of a beautifully executed basket, lobbed from the far corner in a nice neat arc. Swoosh.
The level of play is quick-paced and skilled at Nottingham Elementary School's gym, every Thursday night, when men who can no longer be called young get together to spend an hour coaching youth basketball. Afterwards, from 8 to 10 p.m. or so, they possess the court with energy, attitude, and lots of ace bandages.
Ryan Paquet found out about the group when his son was in kindergarten. The first time he came into the gym he was a little nervous because the level of play so good, but he said, "the guys were so welcoming I forgot all about being nervous." Paquet reserves the court every week.
We're the "All-ibuprofen league," joked Andrew Kerr, laughing. The oldest player is 70. The men have been playing here since the '90s. They play every Thursday night that school is open. Sometimes they are 10, sometimes 20. Most play every week unless they are out of town for business or have family obligations.
"It's our version of book club," said Josh Firebaugh, with a smile, "We don't like to miss it, we look forward to it, along with the post-game trip up to the Knights of Columbus bar for a beer."
Paquet pointed to one of the players, "That's Jonny, who is a janitor here, and he is playing tonight for the first time. The janitors keep the gym open for us, so the last day before Christmas vacation and summer vacation, we raise money among ourselves and give it to them as a thank you because they stay late to let us play."
"We range from ages 36 to 65 tonight," Paquet said. "That guy over there, Dean Schwanke, is 65. Man, I went out with him for a beer on his 60th birthday and he told me, "Just play basketball as long as you can. And he is the proof of that — a really good player who holds his own against the guys in their 30s."
"There are rules," Paquet said. "One thing, you have to wear a dark shirt [with] a lighter colored shirt on top, because we switch teams a lot and the only way you can tell who is on your team is by the shirt color. Another rule is that if someone falls down, play stops. We don't want to take advantage of an old guy! Also, you have to have a child at Nottingham or be in the Nottingham PTA to play. "
Firebaugh said he started playing when his sons were at Nottingham. He didn't play in high school or college, like many of the men. Others were on teams.
Kerr, who proved to be an almost infallible shooter, has a brother who played in the NBA and is now a coach for a major NBA team.
"There are a lot of lawyers — they are the cheapest of the players," Firebaugh deadpanned. "The information technology guys are the best." The players are bureaucrats and rocket scientists. One retired Air Force colonel still plays about once a month despite having Parkinson's.
"Another neat thing is a lot of the guys' sons come out to play now," said Paquet. "The level of play is amazing — but friendly. If anyone gets too aggressive, we have a talk, and either things get better, or they walk."
The men agreed that while there may be other elementary school gyms which have regular games — Tuckahoe has a game on Wednesdays — the Nottingham game has a culture all of its own, and even guys whose children moved to Discovery Elementary School a few years ago stayed with Nottingham because of the game's vibe.
When the schools close for the summer, the teams play in tournaments. It's all very good-natured, but competitive. There are no arguments on the court, if anyone can't remember the score, play stops until there is agreement. There are no refs. The banter heard on the court is typical for a basketball court, whether it's 15-year-olds or 50-year-olds playing: "How many points did we lose by last game?"
"I don't know, I just remember you lost!"
This story was suggested by Michael McMorrow, who has a great eye for stories around Arlington. If you have a story about a noteworthy group of Arlingtonians, contact www.connectionnewspapers.com.
A name in this article was corrected April 22, 2019.