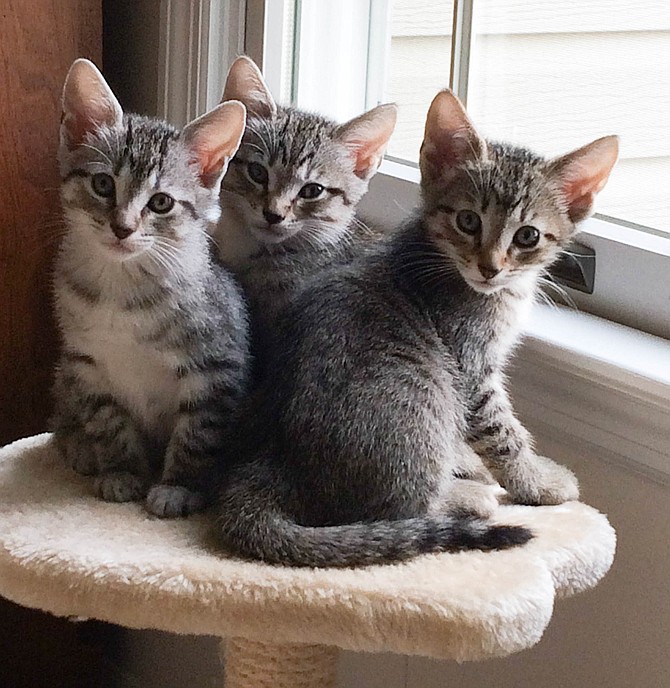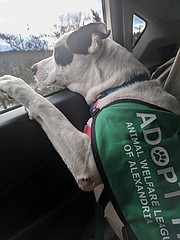 Tyler the bulldog mix was going downtown. Down to Old Town, to be specific. He had donned an "Adopt Me" vest, was fitted for a harness and leash and was setting off with an Animal Welfare League of Alexandria (AWLA) volunteer for a "foster field trip."
The day out included stops at Union Street and Market Square, where Tyler made a quick stop to check out the fountain. He met plenty of people, many of whom paused to remark on his good looks, and the volunteer took the opportunity to promote him as a pet.
The romp through Old Town was a key stop on Tyler's road to adoption. Along with meet-and-greet time, field trips provide animals with a change from the shelter environment and a chance to practice their social skills and also allow volunteers to gather information to pass along to potential adopters, said Maddie Bernstein, AWLA community programs coordinator. The energy expended on these adventures means that these pups will return to their kennels refreshed after a mentally and physically enriching day. Some of them even learn new skills. A Doberman mix called Emma balked at getting into the car to head out on her field trip, and she had to be coaxed up a ramp to the car with hotdogs. But when it came time to head back to the shelter, she hopped right into the car, Bernstein said, as if she'd been doing that her whole life.
Field trips are just one way the shelter's 201 volunteers help Alexandria's animals find new homes. Many pets at the shelter need the special care and enrichment fosters can provide, said Foster Manager Arielle Wait, who has fostered more than 300 animals herself. Neonatal duty, for example, requires a specially trained corps of fosters, who take care of orphaned puppies and kittens too young to be adopted. These young animals need bottle-feeding as often as every two hours, along with assistance eliminating waste and maintaining body temperature.
Animals with significant veterinary needs may also benefit from extra TLC from fosters. Dogs undergoing treatment for heartworm may require months of recovery, and animals recovering from surgeries heal most successfully in a home environment. Animals with behavioral issues, especially cats overwhelmed by the bustle of the adoption floor, often benefit from a stay in a home, where they can learn to coexist with people and perhaps other pets — and be observed to collect valuable information for the shelter's adoption staff.
"An animal's behavior in the kennel is not always a good indicator of what kind of pet they might be," Wait said.
Fostering animals at the AWLA requires orientation and training sessions, Wait said. A foster's interest should be in helping an animal, she said, which often means letting animals move on to their new families after weeks or months together. All food and supplies for the foster animals are provided by the AWLA.
Some shelter animals enjoy a shorter-term foster experience in the form of foster "sleepovers" — overnight or multi-night stays at the homes of volunteers. Recent research on dogs at several shelters in the United States found that the animals' cortisol levels — which can reflect stress — dropped significantly after only one night in a foster home. The research indicates that these sleepovers acted much like weekends do for people, allowing for rest and recharging.
One of AWLA's fosters, commercial airline pilot Dave Fawcett, often shows up at the shelter on his days off to pick up a dog for the weekend or even a week. He's been making great progress with a boxer mix named Steele, an affectionate dog who can get over excited around other dogs and children.
Instead of touring the city, Fawcett runs Steele around a high-school field for exercise before the two of them crash at his Old Town home. "When I turn the lights out, he knows it's bedtime and heads up the stairs," Fawcett said. "He's very quiet and calm and likes to curl up with me to sleep."
Like other fosters, Fawcett keeps a "report card" to be used by shelter staff, answering such questions as: How did he react to receiving a treat to chew on? Did he growl if others approached his food bowl? How did he do on a walk? Fawcett says Steele's consistent training and lower stress levels upon returning to the shelter are enhancing his chances for adoption.
At one point, foster volunteer Jodi Horton was caring for a mother cat and her five newborn kittens in her spare bathroom. All six eventually found new homes once they were ready for adoption. They were some of the more than 20 cats and kittens that Horton has fostered on behalf of the AWLA, often because they were too young for adoption. Her permanent family now consists of four cats, three of them former fosters. "Fostering just brings me so much joy," Horton said. "I can't say that I've quite figured it out though — sometimes I just have to keep them."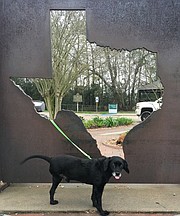 Foster Love Goes Both Ways
Over the time she lived in Northern Virginia, foster "parent" M. Davis took home a series of five dogs for weekend "sleepovers," but it was a frightened, three-legged dog named Skye who really captured her heart. Davis missed her own dogs back at home in Texas — she was on temporary work assignment in the Washington area — so fostering dogs from the AWLA for a short-term window when her work allowed it provided much-needed comfort and companionship.
Skye, whom Davis called Bear because she thought he resembled a small black bear, had been staying in the AWLA administrative staff's office, where he was able to get some specialized attention. Besides his missing leg, for which he compensated well, Skye seemed to have undergone psychological trauma before coming to the shelter; he would not allow anyone to touch him, and if they tried, he would let out a chilling scream.
Despite his fears, Skye seemed to tolerate and even enjoy the sleepovers with Davis and soon became familiar with her apartment. They developed a routine together. "He loved walking in a nearby wooded area and sitting next to me on a blanket while we had a picnic," Davis recalls. He also would sit contentedly for long periods of time on her balcony, watching squirrels and birds in the trees. All along the journey, Davis kept detailed notes about Skye's behavior for use by the AWLA adoption staff.
Soon Skye had spent 10 separate weekends at home with Davis. Early in the mornings, she often would find him sitting patiently next to the bed, looking up at her, waiting for her to take him outside.
That's when she realized that when it came time to permanently return to her home in Texas, she wanted Skye to come with her. She told the AWLA staff she would adopt him.
Under foster care, Skye's fears continued to fade, though he's still skittish and occasionally will let out a cry when startled. "Over the last year he has transformed from a skinny, matted, scared dog into a healthy and trusting companion with lots of love to give," Davis said. With her love and support, Davis's little Bear had become ready to set forth on his biggest adventure yet.