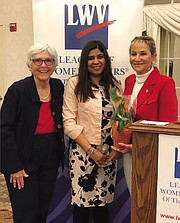 Sheriff Stacey Kincaid was the keynote speaker at the Annual Meeting of the League of Women Voters of the Fairfax Area (LWVFA), held on April 6 at The Waterford in Fairfax.
She is the first female sheriff of Fairfax County in its 276-year history and is also one of only six female sheriffs in Virginia. She was first elected in 2013 to fill the balance of a term and was re-elected in 2015. She will be on the ballot again this November. In 2008, as a deputy sheriff, she earned the Distinguished Service Award, which recognizes "a career of sustained exemplary performance."
What does the Sheriff's Office do? It operates the Adult Detention Center (ADC), which has an average daily population of 972; provides Courthouse security; and serves civil law process for the courts. Her office is staffed by 529 sheriff's deputies and 87 civilians.
Changing the culture around mental illness and substance use disorders has been her focus. She works to achieve change by collaborating with partners in county government and the community. She helped spearhead Diversion First, which offers alternatives to incarceration for people with mental illness and co-occurring substance use disorders. She created an addiction treatment and recovery program in the ADC and she has created a partnership with the courts on new post-arrest diversion programs.
ONE-THIRD OF JAIL INMATES have behavioral health issues. Kincaid emphasizes training to help address these issues. More than 120 of her deputies have taken the 40-hour Crisis Intervention Team training, and all of her staff, sworn and civilian, have to take a Mental Health First Aid course. Such training teaches people how to identify symptoms of mental illness and how to help people experiencing a mental health crisis. Also, with the opening of the Merrifield Crisis Response Center in January 2016, police officers and Sheriff's deputies can divert people experiencing mental health crises to the Merrifield. Bringing someone to jail is no longer the default option. As of Dec. 31, 2018, more than 1,300 people had been diverted from potential arrest.
Trauma is often an underlying cause of addiction. On Nov. 1, 2018, Kincaid launched a pilot program in the ADC – Striving to Achieve Recovery (STAR). Two peer recovery specialists work with inmates to help them achieve recovery from addiction.
Post-arrest diversion programs in the county include a Supervised Release Non-Compliance Docket, Veterans Treatment Docket, Mental Health Docket and Drug Treatment Court. They all aim to provide people with second chances after arrest.
The ADC's priority is to help inmates develop skills, so they can live productively after release. Towards achieving this priority, inmate programs focus on furthering education, improving life skills, increasing employability and building self-confidence. Examples of programs include GED classes and testing; yoga, art and sewing classes; work release opportunities, and the Community Labor Force.
THE SHERIFF'S OFFICE has about 300 volunteers who lead or support many inmate programs. In addition, resource fairs are organized for inmates to obtain information that will help them after they are released. LWVFA has participated in these resource fairs for several years.
Fairfax County is not immune to the problem of domestic violence. If aware or know of a person suffering from domestic violence, call the Domestic Violence Hotline at 703-360-7273. Domestic violence is not always physical. It can be financial, emotional, and/or sexual as well.
Officers Elected
In addition to listening to the Sheriff, LWVFA members elected the following officers: Co-President, Nancy Roodberg, Secretary, Lois Page, and the following Directors: At Large, Jessica Storrs, Public Relations, Katharina Gollner-Sweet, Voter Service Coordinator, Cindy Kalkwarf, Voter Service - Voter Registration Coordinator, Bob Meredith, Volunteer Outreach - Judy Helein, and Membership - Carol Bursik. They will serve two-year terms (2019-2021), beginning July 1, 2019. They also elected the Nominating Committee, composed of Chair, Charleen Deasy, and members, Barbara Ewalt and Peggy Knight. They will serve one-term (2019-2020), beginning July 1, 2019.