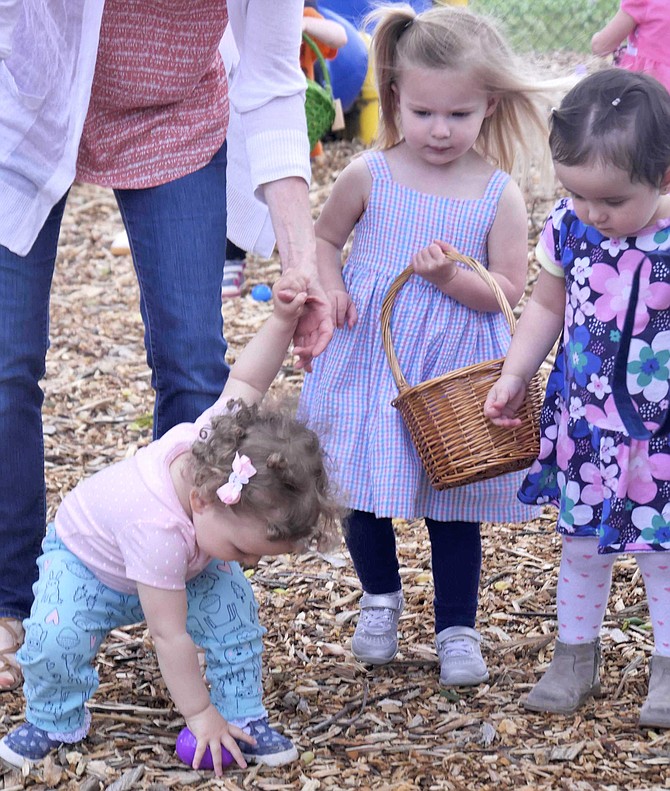 Only 20 minutes to go and 1,500 Easter eggs to hide. That's over one egg per second. Molly Lane, chief bunny, is in charge of the team of her teenage friends who are distributing the eggs around the grounds of Little Falls Presbyterian Church on Saturday, April 20. Lane says she knows the church has been holding these Easter Egg Hunts for at least 10 years because she remembers hunting them in the churchyard herself when she was 5 years old.
Jennifer Greenleaf, ministry associate, stands by the door greeting the children bounding up the steps and swinging their baskets. "Kids, you're going to love this." She says she knows the church has been holding a version of this hunt for many, many years.
"Warm greetings," Senior Pastor Aaron Nagel welcomes the neighborhood and congregational families who have come with parents and grandparents. He says he just arrived last September, so this is the first Easter Egg hunt here for him.
Children file into the sanctuary, some wearing their jeans, some sporting bunny ears and others in their Sunday best. Greenleaf says they will begin by singing some songs and then hear the Easter story of Resurrection, and then probably sing some more songs while the Easter bunny finishes her work outside.
She says there is a special place for children three and younger who will search for their eggs in the enclosed playground area. "Some of the plastic eggs are filled with candy of all kinds, some have a dollar bill and others have a voucher that can be exchanged for toys or stuffed animals." Nagel adds that they don't have anything with peanuts and all of the candy is individually wrapped.
Lane says on Tuesday she led a team of about 10 people who spent two hours stuffing the 1,500 eggs. "It was a lot of work, but it was fun."
The time has arrived. The church door swings open and children rush down the sidewalk. Ready, set — go.