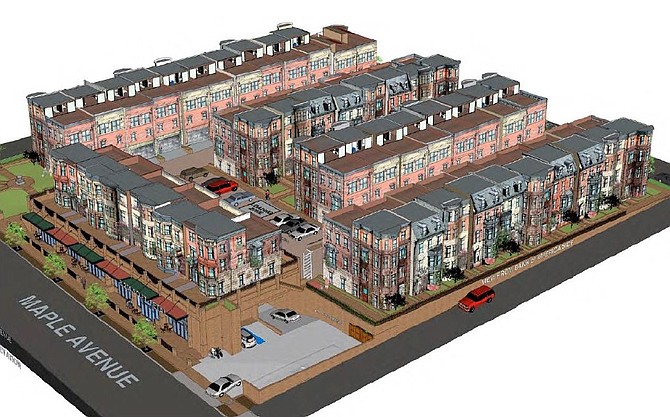 Northfield Investment and Development announced its acquisition of the former Marco Polo Restaurant site in Downtown Vienna that was fire swept as a result of arson last fall. From the ashes, the Washington, D.C. boutique developer has new plans for a mix of 44 luxury condominium townhomes and six retail spaces that will soon be activating the streetscape and bringing even more convenience to Maple Avenue in Downtown Vienna.
"As our latest project in Fairfax County, this new mixed-use development's Vienna location adds an unusual combination of urban connection to both DC & Tysons Corner with a type of main street-style convenience along Maple Avenue," says Nathan Hamman, Principal and Founder of Northfield Investment and Development. "The streetscape will add character and the retail component will be completely walkable, which is exactly the opportunity of urban infill land development that really excites Northfield."
The two-acre plat will help to grow a vibrant and livable downtown that encourages value and improves the potential for an eclectic mix of uses. The plans for this improvement project already have passed the city's Board of Architectural review and will be ready for an early May groundbreaking. Along with its financial partner, John Marshall Bank, the developer intends to deliver its first luxury condominium townhomes in the Spring of 2020.

Although Northfield will build the 8,200 sq. ft. retail marketplace and the six condominium townhomes above, the developer will partner with a national homebuilder to complete the construction of the remaining 38 luxury condominium townhomes. The six residential units sitting on top of the retail will each include a private two-car garage with an elevator and a private rooftop terrace space planned to provide outdoor living for homeowners. Down below, an underground garage will provide an additional 32 retail parking spaces for those visiting the marketplace.
For more information on Northfield Investment and Development, visit Northfieldcos.com.