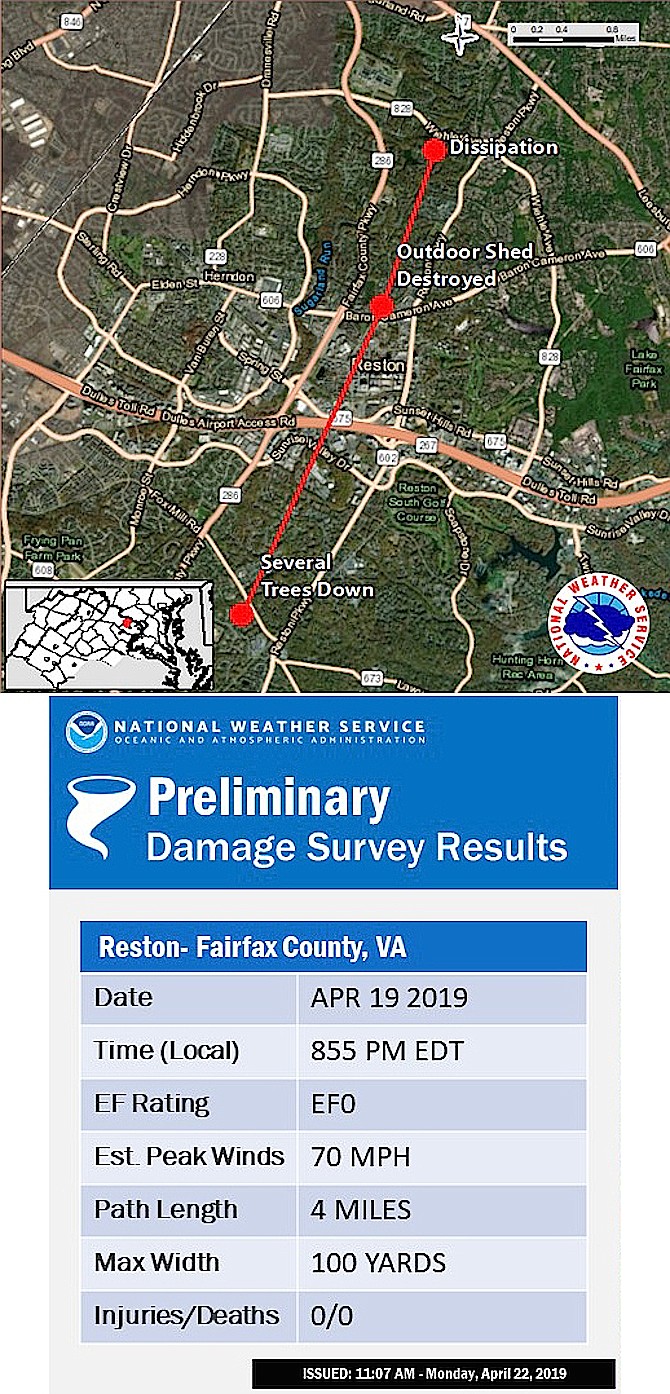 After a powerful line of storms caused damage and tornadoes throughout parts of Virginia on Friday, April 19, the National Weather Service confirmed an EF-0 tornado touched down in Reston at 8:55 p.m. with estimated maximum wind speeds of 70 mph.

According to a Saturday storm survey conducted the day after the tornado by the staff of the National Weather Service Baltimore/Washington Weather Forecast Office in Sterling, the Reston tornado moved north-northeast at approximately 50 mph and lasted five minutes. It produced a discontinuous line of damage along a path approximately four miles long and 100 yards wide, eventually toppling a tree onto a vehicle and another on a home.
The first evidence of damage reported by the survey team was near Fox Mill Road and Pinecrest Road with several trees down. The tornado then traveled near the U.S. Geological Survey Complex on Sunrise Valley Drive, passed over the Dulles Toll Road and tracked across Reston Hospital with no damage seen there. North of the hospital, near Town Center Parkway, the tornado toppled a tree and blew shingles off a home.
The tornado then crossed Baron Cameron Avenue east of Trader Joe's according to the survey team. Damage seen was mainly due to trees being either uprooted or topped; however, a two-foot diameter tree crashed through the upper roof of a townhouse on Quietree Drive in Reston causing local officials to condemn the property.

The destruction continued as a 100-foot tall tree fell and smashed an unoccupied vehicle parked along Center Harbor Road in Reston. Fortunately, no injuries were reported with the tornado. The survey team concluded that strong straight-line winds fell two large trees on Fort Lee Street, one which fell on a house.
The National Weather Service reports on its website, www.weather.gov/safety/tornado-after "large rooms, such as gyms, auditoriums and most lunchrooms are not safe shelters even during 'weak' tornadoes," mentioning an EF-1. For information on tornado safety, how to sign up for notification, create a family communication plan and prepare your home, visit www.weather.gov/safety/tornado-prepare.