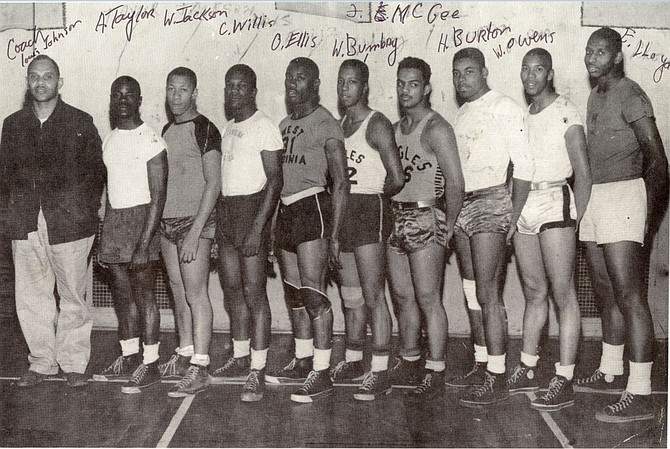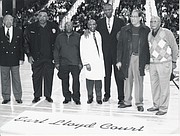 The "Dream Team" gave Parker-Gray School national recognition under the guidance of Parker-Gray's third principal, William Pitts, who expanded the school curriculum by appointing a winning coach, Louis Johnson, in 1939.
Under Coach Johnson's guidance, he developed an All-Star football and basketball teams. His athletes were Horace Burton, Albert Burts, Earl Lloyd, Oliver Ellis, William "Red" Jackson, Rozier Ware, Lee McCoy (Malloy), Robert "Tex" Matthews, Francis "Moose" McGee, Louis Napper, Willie Rice, Sherman McGuire, Herbert Spears, Carlton Willis, William Jackson and others. With these athletes, Coach Johnson developed a winning basketball team that was known by its name, "Dream Team." By the mid-1940s, the team was winning almost all of their games and making a name for their school and for themselves.
It was 1946 when Parker-Gray played Armstrong School in Washington, D.C. With Jimmy Ellis and Earl Lloyd (a 6 foot, 5 feet and 220 pounder), Parker-Gray was able to win the title of South Scholastic Basketball Championship. At that game, Ellis and Lloyd made the highest scores for Parker-Gray.
Many of the basketball members who graduated in 1946 and 1947 were able to obtain athletic scholarships to colleges. Horace Burton excelled as an athlete and he attended college. He became a successful businessman and a union activist. Oliver Ellis was an all-around athlete at Parker-Gray and at West Virginia College. He earned an advanced degree and became a successful industrial engineer. William "Red" Jackson was a successful All-American football player and later became a college coach.
In 1946, Earl Lloyd went to West Virginia College and in 1950 was drafted by the Washington Capitols. Although other African Americans were drafted, Earl was the first to play in the National Basketball Association (NBA) game. He broke the color barrier and paved the way for future African Americans in the NBA.
All of the athletes credited Parker-Gray School family and their parents for their successes. Earl Lloyd was quoted as saying, "We had nothing — not a gym, not a baseball stadium, nothing. What we had, what saved us, was a magic coach named Louis Johnson." In 2007, Earl Lloyd was honored by the City of Alexandria by naming T.C. William's new basketball court after him. Earl stood on that court not alone but with some of his classmates who were part of the "Dream Team."

Seventy-three years ago, the "Dream Team" brought national recognition to Alexandria and Parker-Gray School. Today there are only a few teammates that are confirmed living, Robert "Tex" Matthews and Francis "Moose" McGee. Recent deaths of other teammates are Earl Lloyd who died 2015, Louis Knapper who died 2017, Horace Burton who died 2018, Albert Burts who died 2018 and Herbert Spears who died 2018.
Maybe the nation will get to see the "Dream Team" one more time. In 2015, an independent production company was putting together a documentary on Earl Lloyd, and his living classmates from Parker-Gray were brought together for the filming. Each one of them had fond memories of Earl. One message came across, that Earl always stayed connected to Alexandria, Parker-Gray and his friends until his death. This documentary was never released but who knows, the "Dream Team" might win their biggest game by getting this documentary to the public.
The "Dream Team" made history in 1950 by producing the first African American NBA player. It will take 21 more years before Alexandria's athletes achieved national historical recognition for their accomplishments by the integrated 1971 T. C. Williams' Titans' football team with Head Coach Herman Boone and Assistant Coach William "Bill" Yoast. They made history.
Char McCargo Bah is a published author, freelance writer, independent historian, genealogist and a Living Legend of Alexandria. She maintains two blogs, http://www.theotheralexandria.com and http://www.findingthingsforu.com.