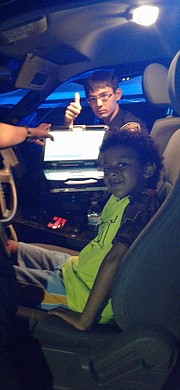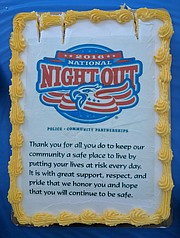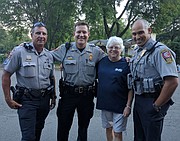 Nearly 100 residents of the Bren Mar community in Alexandria braved the humidity and celebrated Franconia District National Night Out Aug. 2 by taking a bite out of crime with a huge potluck supper.
Children of all ages checked out fire trucks and police cruisers that blocked a cul-de-sac off Indian Run Parkway — which housed several tents and tables of food for first responders and the people they protect and serve.
It's a nice treat for Fairfax County Master Police Officer Allie Eggers and her colleagues to make non-emergency visits like this one to National Night Out events throughout the Franconia District.
"It allows us to get information out to the community," she says, and learn about quality of life issues — such as street parking — from residents.
Recent public outcry across the country over police shootings have encouraged Eggers and fellow officers to talk with local residents and help them understand some of the split-second life or death decisions law enforcement professionals must make in the line of duty.
She feels the negative perceptions some citizens have toward police officers will never change unless they "continue the dialogue."
Earlier in the day as he drove his cruiser along Franconia Road, FCPD Lt. Timothy Forrest said a pedestrian held up his hands in surrender as a "don't shoot" gesture made by thousands of Americans in protest of the fatal shooting of Michael Brown nearly two years ago by former Ferguson, Mo., police officer Darren Wilson. Eggers and Forrest encourage all people in the community to speak with them about general questions and concerns.
"We all know and protect each other," says Bren Mar resident Andriana Bolds, 18. Whenever residents have issues, they call their neighborhood watch leader Sue Hotto, who volunteers full time for the Franconia District Station.
Bolds — an incoming freshman at the Culinary Institute of America in Hyde Park, N.Y. — states Bren Mar is a tight-knit community.
She has attended this neighborhood National Night Out block party for 10 years with her older sister, Angelica, 21. They enjoy touching base with their neighbors and meeting new people.
"It's cool to see the fire trucks," exclaims Angelica, a senior at Virginia Commonwealth University in Richmond.
Local teens Yohannes Girma, 16, and Evan Hubbard, 15, are uniformed FCPD Explorers considering careers in law enforcement. At the Bren Mar block party, they said the youth program teaches them about leadership and community service.
"Being with cops is pretty fun," admits Hubbard. Girma agrees and believes events such as National Night out "are awesome." He attended other National Night Out block parties Tuesday incognito as McGruff the Crime Dog.
National Night Out started out in 1984 with funds from the U.S. Department of Justice that were distributed to 400 communities across the country by the National Association of Town Watch.
Citizens held block parties the first Tuesday night in August to demonstrate their support for local law enforcement and show criminals they are not welcome in their communities.
"It used to be we left the porch lights on," recalls Hotto.
During the next two decades, the movement grew so much that NATW — a non-profit neighborhood watch association based in Wynnewood, Pa. — boasted 1,200 block parties this year in Minneapolis alone.
The main goal, according to NATW volunteer Allison Kostiuk, is to get neighbors together with their law enforcement officials in non-emergency situations to find ways to build safer communities.
Visit https://natw.org to learn how you can organize your own block party or carnival for next year's National Night Out.
For information on crime prevention and awareness, read the FCPD website at: www.fairfaxcounty.gov/police — including a section about "What to Do When You Are Stopped by Police."