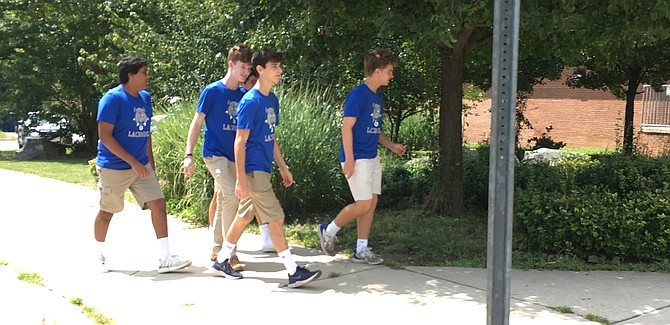 "Most of us came in our jerseys to show love. He always showed love. …We thought [wearing our jerseys] would be a good way to honor him." — Josh Pilarski, rising junior, Churchill football player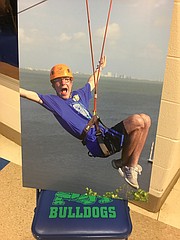 Winston Churchill High School student Jacob (Jake) Cassell was a ray of sunshine to those who knew him.
The memorial service in honor of the rising junior at the school who died from injuries he received in an accident while riding his bike July 30 was as full of Jake's joy and sweet spirit as with sadness at his passing.
"I didn't really personally know him, but I always saw him in the halls and he was always so happy," Malia Bush, a rising junior at Churchill said outside the service Friday. "It's just devastating that this happened. Everybody knew him."
If you saw him, he was your friend, Kofi Asante, Jake's teacher at McLean Bible Church, said.
"He was sweetness, caring and compassionate. He was always eager to lend a helping hand," Asante said. "He will surely be missed."
Jake was very active in his church and recently returned from a mission trip to the Dominican Republic, according to an obituary on Legacy.com. There he helped other members of his church lead a Vacation Bible School for young children.
Jake was also active in Boy Scout Troop 233 in Bethesda. Members of his troop began the memorial service Friday with the presentation of the colors and Mike Schecter, a troop member was among those sharing memories of Jake at the service.
Jake had completed all the requirements for Eagle Scout except for his Eagle Project. One member of the troop said they were going to complete Jake's project for him.
"Maybe we can get him a badge," he said.
Members of many of Churchill's sports teams attended the service in their jerseys, honoring Jake as he had supported them as the Churchill Bulldog mascot, the embodiment of school spirit.
"Most of us came in our jerseys to show love," said football team member Josh Pilarski, a rising junior. "He always showed love. … We thought [wearing our jerseys] would be a good way to honor him."
Gladys Moreno said after the service that she knew Jake for years. Her son and Jake started grade school together and were happy to be reunited at Churchill.
She particularly liked the video of Jake dancing that was shown during the service. "He liked to dance a lot," she said. "It was a very nice service."
Churchill Principal Brandice Heckert wrote on the school's website: "Jake, a rising junior, was the spirit in our building and community. This past year he was at almost every event as our mascot, and he was proud to be a Bulldog. He will be greatly missed. Keep the Cassell family in your thoughts."
A Walk/Ride for Safe Streets, in remembrance of Jake and Jennifer DiMauro will be held Saturday, Aug. 17. DiMauro, 31, of North Bethesda, was a pedestrian who was hit by a car July 20 while crossing the street at the intersection of Tuckerman Lane and King's Riding Way, near the Grosvenor Metro Station. She too died of her injuries.
According to police:
"Preliminary investigation has revealed that the bicyclist was traveling south on the southbound sidewalk of Old Georgetown Road (approaching Beech Avenue) when he fell from the sidewalk and into the roadway. The bicyclist was then struck by a 2018 Volkswagen Atlas that was traveling southbound Old Georgetown Road. The driver stopped and remained at the scene.
The bicyclist, identified as Jacob Cassell, age 17, of Wyngate Drive in Bethesda, was transported to a local hospital with life-threatening injuries. He succumbed to his injuries early [the next] morning [Aug. 1].
"The driver of the Volkswagen, … age 39, of Kentstone Drive in Bethesda, was uninjured.
"The circumstances surrounding this collision remain under investigation. "Investigators are asking anyone who witnessed this fatal collision to contact the Collision Reconstruction Unit at 240-773-6620."
Walk/Bike for Safe Streets
On Saturday, Aug. 17, Walk/Ride for Safe Streets for Montgomery County event in remembrance of Jake Cassell and Jennifer DiMauro.
If you're BIKING: meet at 10 a.m. at Medical Center Metro for group ride to ghost bike site and rally.
If you're WALKING: meet at 10:30 a.m. at Grosvenor-Strathmore Metro for a group walk to the rally at Tuckerman Lane.
10:30 a.m. Ghost bike installation at Beech Avenue and Old Georgetown Road.
11 a.m. Rally for safe streets at the Bethesda Trolley Trail crossing of Tuckerman Lane
See www.facebook.com/actfortransit