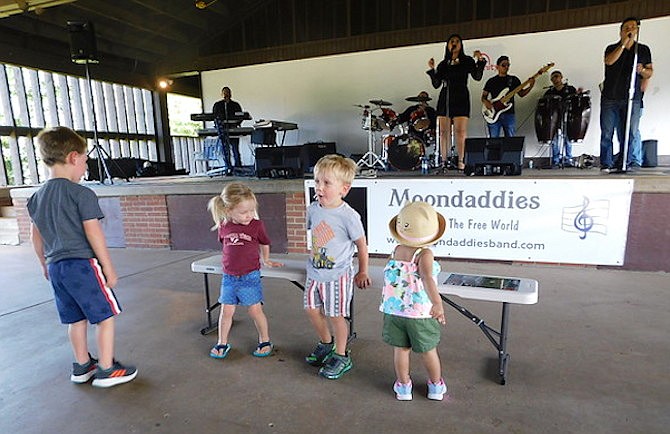 United Community (formerly United Community Ministries) continues to celebrate its 50th Anniversary.
The nonprofit kicked off the year with an anniversary gala titled "50 Years of Neighbors Helping Neighbors" at the Belle Haven Country Club.
In May, United Community's Creekside Community Center held a celebration of community and partnership. This free family-oriented day showcased special appreciation for mothers and community leaders of all ages.
Sacramento Neighborhood Community Center held its celebration of community and partnership in June. This event was also free and family-oriented.
Charles Bolden Jr. delighted both children and parents with his stories about serving as an astronaut on three separate missions Bolden was the first African-American Administrator of NASA, a retired U.S. Marine Corps Major General, a former astronaut, and a long-time Mount Vernon resident.
He showed maps and answered questions, ranging from what it was like to be an astronaut, to what type of rockets NASA is building today to what it was like to take a photo of the earth from the moon. He also showed how much the earth's atmosphere is warming up using time lapse photos.
The event highlighted student and teacher achievement and community leaders of all ages.
The first Battle of the Bands was also held in June. Spearheaded by Mary Beth Powers, this event featured an afternoon of music, food, and fun. More than 100 guests enjoyed performances from local artists Moondaddies (Rock), Kumbia Power (Latin), and The Mobile Church (Gospel).
Barbeque, lemonade, snacks, and summer treats were included with admission, courtesy of Uncle Fred's BBQ Smokeshack, La Prima Catering and other local partners.
Unfortunately, Uncle Fred's truck broke down the morning of the event, so the organizers filled in with sandwiches from Costco, chips and salsa from Moe's, and pizza.
Tom Curcio paid for Uncle Fred's truck to be towed and the truck arrived midway through the event. The crowd greeted him with applause.
The year is not over. Upcoming United Community events include:
Wine Tasting

Unwined Gourmet Wine and Cigars

Belle View Shopping Center

1600 Belle View Boulevard, Alexandria

United Community is growing its network of supporters by reaching out to professionals, families, entrepreneurs, college students, and more, and attract them to join the United Community family.
Saturday-Sunday, Sept. 27-28

Caring for Our Neighbors Mission Conference (Co-hosted with Bethlehem Baptist Church)

Bethlehem Baptist Church, 7836 Fordson Road, Alexandria

Members of area faith and other organizations will participate in a two-day conference and discuss addressing local concerns and needs of the community. Ticket cost: To be announced.
Sponsorships available: Contact United Community Giving Office at 571-255-8977.

Saturday, Oct. 19, 5-8 p.m.
United Community Homecoming

Mount Vernon Country Club, 5111 Old Mill Road, Alexandria
Free, by invitation. Current and former board members, team members, major donors, community leaders, clients and volunteers will reminisce about 50 years of United Community serving the community. Special guest: former United Community Executive Director, Sharon Kelso.

Sponsorships available: Contact UC Giving Office at 571-255-8977.

The Capitol Steps

Registration opens at 4 p.m.
Performance starts at 5 p.m.

U.S. Patent and Trademark Office, 501 Dulany Street, Alexandria
Hosted by The Friends of United Community, Capitol Steps is an annual comedy troupe performance benefiting United Community. Sponsorships and tickets available: Contact United Community's Giving Office at 571-255-8977.

For more information, contact: Arleen Ramirez Borysiewicz, director of Development, arleen.borysiewicz@UCagency.org, 571-255-8977.